Cassie Bishop, First Time Author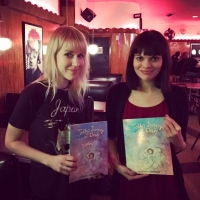 Cassandra Leigh Bishop, LHS class of '98 and Cleveland State University Master's program graduate has published a children's book! "Teddy's Journey to the Clouds" is available on Amazon and at your local libraries. The book was written for families dealing with the terminal illness of a child.
Cassandra (Cassie) says when her mother was little, her grandma would tell her the story of Angelica & Mark, two angels who would fly about their Lakewood neighborhood helping to keep everyone safe. Cassie's mom told her the same stories. Cassie was deeply moved by a Facebook child dealing with brain cancer and the two ideas became the inspiration for the book.
On Thursday, April 6th, 2017, Cassie and her illustrator, Jenna Fournier, will be at Barnes & Noble at Crocker Park from 6:30 to 9pm to launch the book and to personally sign copies. The book-signing info is available on the Barnes & Noble website.
Congratulations, Cassie!
Read More on Business News
Volume 13, Issue 6, Posted 8:14 PM, 03.21.2017