Zap's Wild And Wacky Balloon Show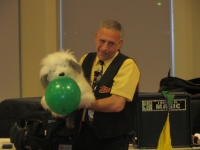 Zap is back at Lakewood Public Library! Saturday March 18th, 2017, join us for Zap's Wild and Wacky Balloon Show, an event that blends magic, comedy, and balloon art into one fun-filled night. If you have never seen Zap the Magician perform, now is your chance!
Bob Durante, aka Zap, has been performing magic for the last 35 years. As a young magician, he worked at the Yellow Barrel of Magic Store, which is the oldest magic shop in this part of the country and still in business in Elyria. There his talents were fostered by the owners who helped many a fledgling performer by holding competitive magic conventions during the 70's and 80's. Later, Durante had the good fortune to work with Tony Slydini, whom he considers one of the greatest magicians of the last 100 years.
Perhaps you've seen Zap at the library before in one of his many incarnations as "Zap the Wonder Chap" or "Zap the Merry Wizard." He is a familiar face in children's entertainment here in Northeast Ohio. He loves to entertain, and that shines through all of his performances. When asked what he likes best about performing for children, Durante says, "It's the moment you see the wonderment shine in their eyes. They know that what they are seeing is something that could not possibly happen and yet it does. That is magic."

So join us Saturday, March 18th at 7 p.m. in the Main Library Multipurpose Room for the first Family Music & More of the spring season. This event is generously funded by the Friends of Lakewood Public Library.
Read More on Library
Volume 13, Issue 5, Posted 6:18 PM, 03.07.2017