Ranger Sports Soar In Postseason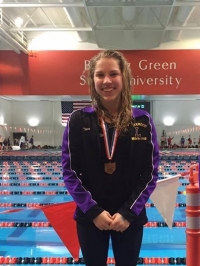 Ranger winter sports teams and athletes closed the season out on some fantastic high notes and and the postseason competition is not finished yet. Major accomplishments include competing in state championships, setting records and winning a District championship in girls' basketball!
Swimmer and senior Kelley Reis closed out her LHS swimming career with a 11th place finish in the 100-yard backstroke and 21st place finish in the 100-yard butterfly in the Division 1 State Championship Meet. Reis broke her own school backstroke record twice over the course of the meet and finished with a time of 56.96 seconds. Reis will continue her swimming career on the collegiate level at the University of Cincinnati.
Also in swimming, the boys' 200-yard freestyle relay team of seniors Nick Ferrone, Evan Gainous, Preston Polen and junior Colman McGuan improved upon its own record set during the regular season of 1:32.42 with a time of 1:31.07 at the Distrit meet. The girls' 200-yard freestyle relay team of seniors Emma Bressler, Julia Neff, Reis and junior Maggie McHugh also made it into the record books with a time of 1:42.30 recorded at Districts.
Junior indoor track sprinter Jordan Robinson qualified for the Indoor Track & Field State Championships in the 60 meters. Robinson qualified for the meet by finishing first of 90 runners with a time of 7.93 seconds at a recent meet in Oberlin. Robinson finished 16th of 18 runners at the State meet and gained invaluable big-meet experience for next year.
Another individual highlight belongs to senior wrestler Will Rodriguez, who went undefeated in his regular season matches, was Sectional runner-up and qualified for Districts along with freshman Nick Darling and senior Donovan Williams.
In hockey, senior Donny McCrae was named to the Greater Cleveland High School Hockey League All-Star Game.
At the middle school level, five wrestlers qualified for the State Championship Tournament March 18-19: Harding eighth grader Jayden Jackson, who is undefeated this season at 41-0, Garfield eighth graders Brandyn Bates and Tico Jones and Garfield seventh graders Nistor Krizan and Rubyn Semedo.
Read More on Sports
Volume 13, Issue 5, Posted 6:18 PM, 03.07.2017