Oleg Kruglyakov Concert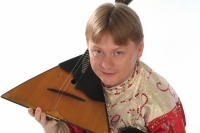 The balalaika is a Russian stringed musical instrument with a triangular body and three strings. It comes in various sizes and can produce several different pitches.
Oleg Kruglyakov is a balalaika player. He was born in Omsk, Russia. Singing together with his family as a child created a fondness for this musical style. Later, he was educated at the renowned Ekaterinburg Conservatory. He studied, conducted, and taught the balalaika. The vibrant language and history of the Russian people captivated him and influenced his style.
Come to the Lakewood Public Library on Sunday, March 12 at 2:00 p.m. in the Main Auditorium to listen to Kruglyakov's music, and experience some of Russia's history and culture all at once.
Read More on Library
Volume 13, Issue 5, Posted 6:18 PM, 03.07.2017