Memories Of Home And The Wisdom Of Women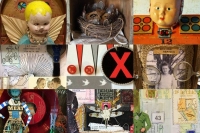 March is Women's History Month. If you want to celebrate women in an interesting, fun and thought-provoking way, visit the Beck Center to view an exhibit by three artists who have spent years working to portray their personal and political views through collage, painting and quilt-making. "Memories Evoked: Circling Back Home" is showcasing the works of Jill Milenski, Gayle Pritchard and Gail Crum in the lobby of Lakewood's Beck Center through March 12.
The women met in 1996 at Artstown studio in Avon Lake when Pritchard taught a workshop on creating art from ordinary objects. The class and connection among the women was so intense, they mounted an exhibition the following year and commenced their regular meetings to collaborate in the process of assemblage, taking ordinary objects and creating both two-dimensional and sculptural pieces. Decades later, they've arrived at middle age with political opinions and life experience reflected in the collage, paintings and fiber works on display at the Beck.
Although they have been meeting for years, much of the art in the show is recent. "We influence each other in subtle ways," says Milenski. "We share materials and ideas, which brings a real cohesion to our show." Their work is colorful, whimsical and multi-dimensional. It includes Pritchard's intricate quilts, Crum's creatively assembled found objects and Milenski's use of children's clothing, toys, puzzle and game pieces.
The work is intensely personal, but also political and feminist. Intricate and layered with old photos, advertising images, game pieces, toys and objects found in flea markets, many of the works evoke a nostalgia for the American past. The show invites viewers to contemplate the myriad objects and techniques in each piece; nothing is simple or one-dimensional. When viewing the artists' work together, themes emerge: childhood, parenting, homemaking, body image, isolation and loneliness, misogyny, nurturing, loss and the collective wisdom of women.
Although the theme of "circling back home" is reflected in the use of items personal to each artist, such as photos of their own childhood homes, our current political climate is not ignored. All three artists attended Women's Marches in January because they were disgusted by the way Trump's campaign treated women's issues. Some of the works in the show reflect their political views. Pritchard created "She Was Warned" after the silencing of Elizabeth Warren by her colleagues on the senate floor in February. During the presidential primaries, Milenski created "Dark Horse Pulls Ahead," a reflection on the rise of outsider candidates Donald Trump and Bernie Sanders.
"Throughout history, women's voices have been disregarded and undervalued, even silenced," says Pritchard. "Women artists have experienced this marginalization, too, and are still completely under-represented in museum collections, history books and art directorships." With this exhibit, the Beck Center shines a light on three artists who certainly deserve recognition, both for their extraordinary art as well as their long collaboration.
The public is invited to a Gallery Talk with the artists from 1-2 p.m. on Sunday, March 12, the final day of the show. The show can be viewed any time the Beck Center is open, 10 a.m. – 8 p.m. Monday through Saturday and noon to 6 p.m. on Sunday at 17801 Detroit Avenue in Lakewood.
Read More on Arts
Volume 13, Issue 5, Posted 6:18 PM, 03.07.2017