District Staff Spotlight: LHS Custodian Hatmaker The Tops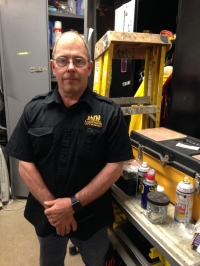 Lakewood High head custodian Randy Hatmaker is a military man at heart and it's that sense of duty and service that he brings to his job that has earned Randy the honor of being one of Lakewood City Schools' March Staff Spotlight honorees.
Hatmaker, who served 27 years in the Navy Reserves and has been with the District for 24 years, heads up a team of 15 custodians and cleaners who are responsible for the maintenance and upkeep of the 250,000- square-foot high school. With such a massive space to attend to, it is important to Hatmaker that the work is done quickly, efficiently and correctly.
His military training has allowed him create a system that helps alleviate any backlog and prevents small problems from turning into bigger ones. His approach is one of friendly customer service where he makes sure to meet face-to-face with a staff member making a request to ensure he knows exactly what that person's needs are. He then follows up once the job is complete to make sure all are satisfied.
He urges his staff to get to know the specific needs of teachers in their area. "Learn your teachers, learn what makes them happy in the day...Our job is to make it easier for the teachers to do their job so they can help our students," he says.
LHS staff members praise Randy for his professionalism and responsiveness. Says Hatmaker's nominator, Culinary Arts instructor Rob McGorray: "Randy solves problems easily and creates solutions that minimize or eliminate the problem from happening again. He is a great and goes well out of his way to help in any and all ways."
Read More on
Volume 13, Issue 5, Posted 6:18 PM, 03.07.2017