District Staff Spotlight: Garfield's Moran Always Team Player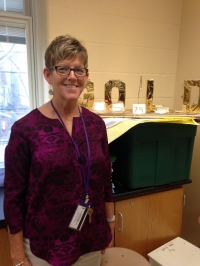 A love of teaching and a love of sports come together in the form of Garfield Middle School's Colleen Moran and the result is a passionate, team-focused teacher who is a Lakewood City Schools' March Staff Spotlight honoree.
After nearly 35 years of teaching middle schoolers in the District, Moran, a lifelong Lakewood resident, remains as passionate about teaching as she did when she was a new grad fresh out of Cleveland State heading to work for her hometown district.
Moran's commitment to Lakewood and the District is evident whether it's in the time she gives mentoring young teachers such as her nominator Kyle White and daughter Kelly at Grant Elementary or in her role as a volunteer coach for Garfield's 7th and 8th grade girls' basketball teams. According to White, Moran is "the best science teacher on Earth!"
In the classroom, she makes sure everyone knows they are all on the same team working for the same goals. Yet, she takes care to give each student what he or she needs individually and find the hook that will engage them.
Moran, who is a member of the LHS Alumni Sports Hall of Fame for her high school basketball and coaching days, is always one to give credit to her teammates, whether it be in sports or in school. She praises her 6th grade science team as "incredible." After three decades, she says the reason why she enjoys teaching remains the same: "I love interacting with the students every day."
Read More on Schools
Volume 13, Issue 5, Posted 6:18 PM, 03.07.2017