Didn't Make Termbo's Best Of 2016: Reviews Of Recent Releases By Local Bands, Pt. 44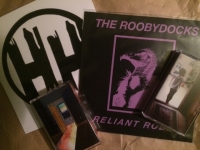 Obligatory Disclaimer: Record reviews are a tricky business. It's one thing to enjoy music, but to, like, pick out what you like about it? That being said, if I review your thing and I didn't like something, don't feel too bad. My opinion doesn't matter all that much.
Haunted Head - Screaming - Public Square Records - 2 songs - 7"
I'm not quite sure what the deal is with this one. I think this was produced in 1998 (it was definitely recorded then, but I mean manufactured in '98 as well), but never released? Or only some were released? Or they just found copies they thought were lost? Or they finally got the covers? Or they broke up before releasing it? Or I was just straight up lied to and this isn't a new release at all? The member of the band I received this from said it was "new old," which doesn't really clear that up at all. Anyway. "Screaming" is a pretty darn decent punk tune in a '70s sorta Pagans style. Legitimately catchy, and I like that it sounds like the guitarist messes up the riff in the first five seconds of the song, but maybe that was intentional. Who can say? Side B, "98 Shutdown," isn't quite as good a song, but hey, it's a b-side, and it still isn't bad. You don't really hear much of this style of punk anymore, though based on that "Back To Cleveland" compilation (where I first heard Haunted Head), the market was once pretty over-saturated with it. Even so, I do remember Haunted Head as one of the standout bands of that style (I say that style to include the stuff that wasn't like that, like 9 Shocks or Wayne Kramer) on the Back To Cleveland record, along with The Spasms and Teenage Knockouts/TKO's, if I recall correctly. Fans of this kind of punk will dig it, people who don't like this style won't. I did. 4/5
(I think there's copies available at dead-beat-records.com, or try an area record store and save on shipping.)
The Roobydocks - Reliant Robin - My Mind's Eye - 6 songs - 7", download
Since The Roobydocks played their first show in October 2016, they've quickly become one of my favorite bands in town. And here they are with a 7" out already! The opening track, "How Was Jail?" really sets the stage for what this band is about: good catchy punk. I like that this has lyrics with it, as you can see how funny some of the lines are, such as "his life's a performance that lacks any art" in "Leopard." On a similar note, I had no idea that the first line of that one part in "More" was "wreck." I thought he was saying "rock," which doesn't make any sense. Glad to see it's "wreck," as that goes much better with the following shouts of "destroy" and "annoy." I also like that he uses the phrase "out of whack." Side B brings us a true anthem for the youth in "Life Is Joke." This seems to be The Roobydocks' biggest hit so far, and for good reason. Life truly is joke. I'd also like to bring up the guitar playing on this record. Besides the fact that I really like the clean tone the guitarist has going (really makes things sound unique, ya know?), I find something new that I like about the lead guitar lines in "The Garden Of Life" on each successive listen. The EP closes with "Bubble," a song about how much our narrator hates the music scene. An area musician read through the complete lyrics of this record in my presence and offered the following judgement: "intense." Assuming all that is said to be coming out actually does come out, it seems like Cleveland will be having a good year in music, and this is maybe the perfect way to kick that off. Oh, and it comes with a sticker. Stick it to the window of the man, man. Or just put it on your guitar case like I did. 5/5
(I'm special and got an advance copy of this. The release show for this one is Friday, March 10 at Now That's Class. If you can't go to that, you can purchase the record at mymindseye.bigcartel.com (or at My Mind's Eye) and listen/download at theroobydocks.bandcamp.com)
Aaron Troyer - Faith In The Unknown - Superdreamer Records - 11 songs - Cassette, download
Aaron Troyer, for those out of the loop, is the frontman of Columbus, Ohio's own Day Creeper. I'd thought this was his first solo outing, but the press release I got with this said otherwise, so there you go. Mostly, it's like a poppier version of Day Creeper. There's quite a lot of synth on this album, which I'm not sure is a positive thing. On one hand, it does give it a kinda unique vibe. On the other hand, there's so much synth. Side A has its moments, the opening track "Feel" in particular, but Side B really did more for me. The three more acoustic-based tunes that closed the tape were a nice change of pace, and "Unwanted Alibi" kinda reminded me of Prisonshake, though as I've mentioned before, maybe that's just 'cause something about Mr. Troyer's voice reminds me of Doug Enkler for some reason. Not a bad indie rock/pop full length. Decent stuff. 3.7/5
(superdreamerrecords.com to buy the tape, aarontroyer.bandcamp.com to download)
Winston Hytwr - XXXploration Date - Superdreamer Records - 9 songs - Cassette, download
I really don't know what the deal is with this. So there's Winston Hightower, the guy, but then there was a group called HYTWR that he's part of? Or HYTWR is just him? I don't know, I don't live in Columbus and so I'm not really inclined to find out in person. My press release here informs me that our guy Winston has also been in Minority Threat, Slugbugs, Yuze Boys, and Splashing Safari. To be quite honest, I'm not really up on current Columbus stuff as much as I should be, so the only band there whose music I'm actually familiar with is Slugbugs. If any of those other bands mentioned (or any bands at all, really) wanna send me stuff, you know, so I can have a deeper understanding of Columbus' current musical climate, you can go ahead and do that. I should get back to the matter at hand. Helpfully, this tape did not include a track listing, so I was left to piece together the running order using the included lyrics and the track listing on Bandcamp, which did not match the cassette. The cassette opens and closes with, I think, some keyboard experimentation type stuff (those tracks, according to my research, are titled "S.S.O." and "Standard Ohioan," respectively). In between those are maybe the strangest songs I've heard on Superdreamer so far. It's seven tracks of kinda weird lo-fi pop rock. Parts of it are kinda psychedelic. Other parts are kinda Guided By Voices. Kinda weird. Kinda good. 3.7/5
(superdreamerrecords.com to buy the tape, winstonhightower.bandcamp.com to download)
Are you a local-ish band? Do you have a record out? Email vaguelythreatening@gmail.com or send it directly to Observer headquarters: The Lakewood Observer, c/o Buzz Kompier, 14900 Detroit Avenue, Suite 205, Lakewood, OH 44107.
Read More on Arts
Volume 13, Issue 5, Posted 6:18 PM, 03.07.2017