Burning River Baroque Presents "On The Brink Of Insanity: Portrayals Of Women As Mad, Crazy, And Unhinged"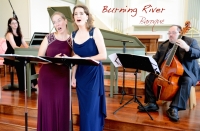 Praised by the Boston Musical Intelligencer as a group that "left an indelible imprint on my psyche," Burning River Baroque will return to Lakewood Presbyterian Church for their newest cutting-edge program "On the Brink of Insanity: Portrayals of Women as Mad, Crazy, and Unhinged." Dramatic musical works often contain scenes of overwhelming emotion in which male characters are frequently portrayed as being consumed by power. When women are overcome with emotion, however, male composers often attribute madness or craziness to them.
Burning River Baroque will present a selection of works by George Frideric Handel, John Eccles, and Henry Purcell where women's passions and emotional expressions render them as unhinged in the eyes of their creators. A set of Sephardic folk songs depicts several ways that female narrators describe various types of insanity.
In a new move for the ensemble, the program will feature an original work by Malina Rauschenfels using texts from the Salem witch trial of Bridget Bishop. This fusion of new and old works will shed light on how the ways we describe those who are different from us can have very real and long-lasting effects on the community at large.
The concert will take place in the chapel of Lakewood Presbyterian Church (14502 Detroit Ave) on Wednesday, March 22 at 7:30 p.m. Admission is a $10-$20 donation. Performers include Paula Maust, harpsichord; Malina Rauschenfels, soprano and baroque violin; and Anna Steinhoff, baroque cello. More info. can be found at www.burning-river-baroque.org.
Paula Maust
Paula Maust is the co-director of Burning River Baroque. She currently resides in Baltimore, MD where she is working on a doctorate in harpsichord at the Peabody Institute. She is a music theory professor at Towson University and teaches harpsichord and organ at UMBC.
Read More on Arts
Volume 13, Issue 5, Posted 6:18 PM, 03.07.2017