Beer Engine's 10th Anniversary Is A Win, Win, Win!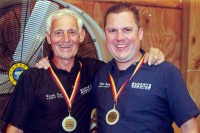 Win #1 - (2007) Robert and Garin Wright, the father/son team that established Cleveland's Buckeye Brewing Company in 1997, chose to locate their new craft beer bar in Lakewood
Win #2 - (2017) Ten years later, BEER ENGINE continues to grow its vision of providing unique, freshly crafted beer along with top quality service and great food.
Win #3 - (March 13-19, 2017) BEER ENGINE celebrates its success with an incredible seven-day fundraiser for Lakewood Charitable Assistance Corporation.
Like all the members of Lakewood Charitable Assistance Corporation's volunteer board, I was amazed by BEER ENGINE's decision to share 10% of their anniversary week proceeds with our organization. This donation will directly impact more than 600 Lakewood households in need of holiday food baskets and spring cleaning supplies from LCAC in 2017. What a generous gift! Wanting to learn more about LCAC's benefactors, I met with co-owner Robert Wright and general manager, Peter Stancato at the BEER ENGINE - 15315 Madison Ave.
Stepping into BEER ENGINE is nostalgic. The vibe is comfortable and relaxing, compliments of Robert's background in interior design. Robert reminded me of the location's many incarnations: The Titanic, Martini's, Lenard's and Dairy Dell (where he and his late wife, Nancy Womer enjoyed treats). Lakewood ties are strong in this family business. Garin, co-owner and master brewer, is a 4th generation Lakewoodite. According to Robert, Garin voiced his opinion that our community was the ideal spot for Buckeye Brewing Company's retail outlet. The rest is history.
BEER ENGINE opened at the corner of Arthur and Madison in 2007, in the midst of an economic recession. They were the first major craft beer bar in the area, with a certified beer engineer and staff highly educated in the beer industry. Robert attributes their rising success to "great service, great food, unique/fresh beer, and being good neighbors." Business has grown every year, keeping bookkeeper, Kathy Wright busy. According to BEER ENGINE's staff, Lakewood is a dynamic place to do business.
Did you know BEER ENGINE features two beer hand pumps, also known as a beer engine? The beer is pumped from a cask in the basement cellar to the bar upstairs. Cask beer, while relatively uncommon, is naturally carbonated and unfiltered. In addition to the casks, 27 quality drafts and a wide variety of bottles are available. Stop by and ask the bartender to show you how the beer engine works. While you're there, congratulate them on 10 years of serving suds in Lakewood!
SAVE THE DATE!!
March 13-19 - Celebrate BEER ENGINE's 10th Anniversary and support LCAC. Stop by for lunch, dinner, or a cold brew. Lakewood Charitable Assistance will receive 10% of your tab and 100% of any donations you make toward decorating their walls with a personalized paper keg or mug.
March 20 - 6 p.m. - Mayor Summers will appear at BEER ENGINE's 10th anniversary celebration and make a formal check presentation to LCAC.
Read More on Features
Volume 13, Issue 5, Posted 6:18 PM, 03.07.2017