Rangers Beat Amherst on Senior Night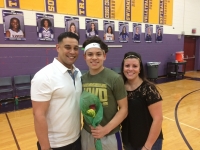 The LHS boys basketball team ended their regular season in style, defeating Amherst Steele 64-56 in front of a packed house at Harding Gym. The win completes a season sweep by the Rangers over the Comets, and lifts Lakewood's final regular season record to 8-14. The Rangers travel to North Royalton on Wednesday to face the Bears in a first round OHSAA tournament game.
Senior cheerleaders, managers, and players were recognized in a pre-game ceremony. Each was introduced and took the floor with their parents or families. Once the action began, Lakewood built a 17-7 first quarter lead behind seven first period points from Senior Chris Golden. Fellow seniors Jon Patrick and Omar Ibrahim also contributed points to the early lead. The Rangers held the lead in the second quarter, as juniors Raekwon Whitfield and Jacob Sala heated up from the floor. Lakewood carried a 33-25 margin into the half.
Early in the third period, senior Joey Lemmeier hit a three pointer to sustain the lead, which reached 49-40 by the end of the third period. Amherst came out strong in the fourth quarter, scoring nine unanswered points in two minutes to tie the game at 49. Lakewood kept its composure, as senior point guard Adam Torres directed the offense back to a three-possession lead with under two minutes remaining. Ibrahim put the game away with a basket at 1:11 to give Lakewood an eleven point lead. The crowd became ecstatic as the final seconds ran off the clock.
Golden and Sala led the Rangers with 15 points apiece. Whitfield had 7; Lemmeier and Setta each had six. Lakewood will play North Royalton Wednesday night in the tournament opener. If they win, the Rangers will return home to Harding Gym to face Normandy in a second round game next Saturday at 7pm.
Mike Deneen
Mike Deneen has extensive experience covering sports and community stories for the Lakewood Observer. Mike has been a Senior Industry Analyst for the Freedonia Group in Cleveland, Ohio, since 1998. He has appeared on CNBC's Closing Bell, NPR's MarketPlace and has been quoted multiple times in The Wall Street Journal. He has made multiple guest appearances on ESPN Cleveland radio. Mike also writes for Inside Northwestern, a website that covers Northwestern Wildcat Athletics. You can reach him on Twitter at @MikeDeneen1
Read More on Sports
Volume 13, Issue 5, Posted 9:56 PM, 02.24.2017