Rangers Thump Normandy in Playoff Win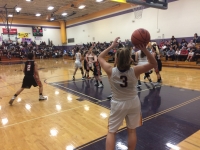 The LHS girls basketball team used an agressive defense and a balanced scoring effort to defeat Normandy 65-43 in an OHSAA tournament game Thursday night. Junior Sahar Hamden led the Rangers with 12 points, helping Lakewood to win its final game ever played at Harding Gym. The victory sets up a Monday evening showdown with Magnificat, which defeated Garfield Heights on Thursday.
The game got off to a sluggish start, with Lakewood holding a 3-2 lead nearly four and half minutes into the opening quarter. Then Hamdan hit a pair of three pointers on consecutive possessions, sparking the Rangers to a 15-11 lead after one period. Lakewood pestered the Invaders all night with an aggressive press, creating numerous turnovers and transition opportunities. The Rangers expanded the lead in the second quarter, as Ryann Greenfield scored an "old-fashioned" three point play to make the game 18-13 just 21 seconds into the period. Isabel Cintron and Emma Ribar each hit a three point shot midway through the quarter, and Courtney Ribar added another late to expand the lead to 39-25 at the half.
Junior Olivia Nagy scored six of her ten total points in the third period, as Lakewood sustained their double-digit margin. Lakewood pulled away in the second half, using many bench players in the final minutes. Courtney Ribar finished the game with 11 points for Lakewood; Greenfield had ten; Isabel Cintron had six. Monday night's game against Magnificat will take place at Valley Forge High School. It will take place at approximately 7:45pm, following a 6pm game between St. Joseph Academy and Medina.
Mike Deneen
Mike Deneen has extensive experience covering sports and community stories for the Lakewood Observer. Mike has been a Senior Industry Analyst for the Freedonia Group in Cleveland, Ohio, since 1998. He has appeared on CNBC's Closing Bell, NPR's MarketPlace and has been quoted multiple times in The Wall Street Journal. He has made multiple guest appearances on ESPN Cleveland radio. Mike also writes for Inside Northwestern, a website that covers Northwestern Wildcat Athletics. You can reach him on Twitter at @MikeDeneen1
Read More on Sports
Volume 13, Issue 5, Posted 10:17 PM, 02.23.2017