Sponsor The 2017 Taste Of Lakewood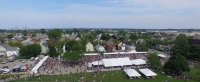 The Lakewood Chamber of Commerce invites you to join us in celebrating Lakewood's thriving food and restaurant scene – be a part of the 14th Annual Taste of Lakewood, to be held on Sunday, June 11th 2017.
The Taste of Lakewood is an outdoor day-long food & music festival that celebrates what Lakewood is known for: our eclectic mix of regionally known and award-winning restaurants and food purveyors. The event has grown from 22 restaurants and 250 attendees at the first Taste of Lakewood at The Clifton Club in 2004, to 36 restaurants, three live bands, craft beer and wine, a merchant market, a VIP experience, and more. The Taste of Lakewood now attracts thousands of people from all over the region who know of Lakewood's reputation as a great food destination. Lakewood's best restaurants, eateries and caterers sell their food to guests who picnic on the park grounds, dine al fresco, and enjoy great live music onstage at Madison Park in the historic Birdtown Neighborhood of Lakewood.
Expose your brand or product to thousands of people from throughout Northeast Ohio who have a passion for good food, good beer, and good tunes at the Taste of Lakewood, the region's premier Good Food event. A portion of the proceeds funds the Lakewood Chamber of Commerce Scholarship Fund, which awards deserving seniors at Lakewood High School and St. Edward High School each year.
Details on sponsoring the 2017 Taste of Lakewood are available online at tasteoflakewood.com, or contact the Lakewood Chamber of Commerce at 216-226-2900.
Read More on Business News
Volume 13, Issue 4, Posted 6:40 PM, 02.21.2017