Lakewood Resident Ellen Spear Honored By Connecting For Kids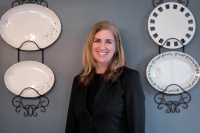 Connecting for Kids will honor Lakewood resident Ellen Spear, MA, CCC-SLP, Speech Language Pathologist and Co-Owner, Lakeshore Speech Therapy, LLC. as its Professional of the Year. This award is given to individuals who have helped fulfill the organization's mission to provide education and support to families with concerns about their child. The award will be presented at the organization's Annual Fundraiser on February 24, 2017 which will be held at Ahern Catering & Banquet Center, 726 Avon Belden Rd. in Avon Lake. The festivities kick off at 6:30 p.m.
Spear runs a successful practice in Westlake, helping numerous children to improve functional communication skills. In her free time, she started "Running with the Cats", a program which connects St. Ignatius High School students to children with special needs for the purpose of training together for 5K runs. The program has grown from four kids to more than 50 participants. The person that nominated Spear commented, "My son needed this program. He loved his match and looked forward to his time with him. I love that it was a free activity for my son and it got him active!" Running with the Cats, which is open to those with many different diagnoses and concerns, has helped children with special needs gain confidence in both athletic and social skills. The high school students have also benefited from being peer models in this program.
Spear has also helped to educate families about communication and social skills issues by presenting at Connecting for Kids Speaker Series programs.
Lorilynn Wolf
Lorilynn Wolf is the Communications Director for Connecting for Kids.
Read More on Non-Profit
Volume 13, Issue 4, Posted 6:40 PM, 02.21.2017