Hey, Can Someone Funnier And More Clever Than Me Think Of The Title This Week? Thanks.: Reviews Of Recent Releases By Local Bands, Pt. 43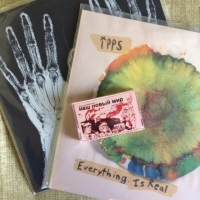 Obligatory Disclaimer: Record reviews are a tricky business. It's one thing to enjoy music, but to, like, pick out what you like about it? That being said, if I review your thing and I didn't like something, don't feel too bad. My opinion doesn't matter all that much.
Another Mother's Milk - Our New World - Quality Time Records / Brain's Record Records - 11 songs - Cassette, download
This is Another Mother's Milk's second release (I think), following up on their 2015 CD "Milk Money." How things have changed since then! They've changed their sound a bit, and now most of the lyrics tend towards the kind of things you'd expect to find in a Wetbrain song. I really enjoy Side A of this tape. "Blood Wave," "Kneel To Power," and "Let It Fester" are three pretty darn good indie rock/punker tunes, "Shadow Men" has a nice slow groove which goes into this quicker bit with screaming, which was weird but interesting, and the closer of the side is probably the best song on the whole thing, "The Proles." Let's talk about that particular tune for a bit, as it's the centerpiece of the album (in my opinion, anyway, which, as expressed above, doesn't matter). It starts with this slow, kinda avant-garde stuff with a spoken word thing about a particular Prole. This goes on for quite a while (I'm not quite sure if they're being ironic or not. If it's satire, then AMM are really, really good at it. If it isn't, well, hey.) before the song kicks into this good almost-chaotic punk tune. Good stuff. Unfortunately, Side B didn't have nearly the highs that A did. It's passable stuff, but nothing all that grabbing, with the exception of the folksy closer "House In The Earth." However, it's probably still worth it for you to pick this one up, as Side A is legitimately pretty good stuff. This tape not only has maybe the best design I've seen on a Quality Time release yet, but proclaims itself to be "Huxley Tested, Orwell Approved." You make the call. 3.7/5
(anothermothersmilk.bandcamp.com to download, I assume the tape will probably be available soon at qualitytimerecords.bandcamp.com)
Ipps - Everything Is Real - Superdreamer Records - 11 songs - LP, download
Another not-so-recent Superdreamer release. Hey, I'm doing what I can here. I guess I would describe Ipps as garage rock, but it seems like everything is garage rock these days. Whatever. Side A of this one has its moments– the catchy "Never Sleep" and the story song "Bring It All Down, Bury The Devil" are particularly decent tunes– but never quite grabs me. Side B has more variety in the styles going on, and as such is the more engaging side. On the whole, I feel like the record is just a bit too restrained. The only song that doesn't feel that way is the closing freakout "Goawa." I'm told these Ipps people have two drummers (audible a few times when they're about a half second off from each other (I'm not implying either misses a beat or anything, just a slightly non-in-sync cymbal hit or something, ya know)), which I feel could be used to greater effect (again, with the exception of "Goawa"). I also feel like they could use a bass player, but I think that about every band I listen to that doesn't have a bass player that isn't electric eels. A thoroughly decent record as it is. Room for improvement, but an enjoyable listen. 3.5/5
(superdreamerrecords.com for the record, ipps.bandcamp.com to download)
Sex Tide - Vernacular Splatter - Superdreamer Records - 6 songs - 12"
Yet another one of these annoying records that doesn't have a tracklist. As usual, Discogs was my friend. So, I'd heard a previous record by this Columbus two-piece and thought it was pretty boring, if we're being honest here. This one isn't too bad. Side A is the better half, especially the opening track "Are You Even Alive," but the whole record is pretty okay. Garage rock with a strong Cramps influence, for you garage rock with strong Cramps influence fans. The production is good on this one, which has been a problem I've had with other Superdreamer releases. Discogs tells me that it was recorded by Jah Nada at Galaxy 2474, which is something I'm more used to seeing on Heel Turn Records releases. Hm. Also, I quite like the cover of this EP. The screenprinted skeleton hands are cool, but I really like the spray-painted back cover. Nice touch. If only it had an insert or something so I didn't have to Discogs this. 3.5/5
(superdreamerrecords.com)
Are you a local-ish band? Do you have a record out? Email vaguelythreatening@gmail.com or send it directly to Observer headquarters: The Lakewood Observer, c/o Buzz Kompier, 14900 Detroit Avenue, Suite 205, Lakewood, OH 44107.
Read More on Arts
Volume 13, Issue 5, Posted 6:46 PM, 02.21.2017