Great Lakes Theater Presents "The Jabberwocky" At The Library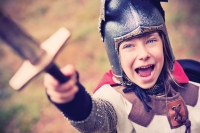 As part of their Classics on Tour series, Great Lakes Theater will present "The Jabberwocky" on Thursday, March 2 at 6 p.m. in the Main Library Auditorium. Inspired by Lewis Carroll's beloved poem, Great Lakes Theater's production of "The Jabberwocky" tells the tale of two students who band together after being bullied.
The two friends follow a secret map and escape to the Tulgey Wood—where they meet Cheshire Cat, JubJub Bird, and Bandersnatch. But will they find the courage to defeat the Jabberwocky?
This special performance by Great Lakes Theater takes place at 6 p.m. Admission is free and open to all ages.
Read More on Library
Volume 13, Issue 4, Posted 6:40 PM, 02.21.2017