Girls Group at LHS Really ROX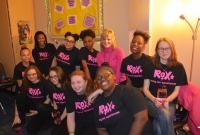 Lakewood High School Guidance counselor Nina DeChant has started a girls' empowerment group at LHS that is already working its magic on its members only a few short weeks into the program. "My self esteem has gotten higher and it's helped me with relationships," says one member of ROX. "It's a place where I'm not judged," said another girl of her ROX group.
ROX, which stands for Ruling Our Experiences, is a program that was created from evidenced-based research on what issues teenage girls' face and struggle to cope with in the Internet/social media age as well as age-old issues girls face. Topics range from building and maintaining healthy relationships, coping with the stress of bullying and aggressive behaviors, fostering healthy self-images and learning how to manage social media/pop culture influences.
DeChant's group of a 10 girls meets weekly to talk about these issues and anything else the girls might want to discuss. DeChant received training in order to teach the 20-week program that was paid for by a Margaret Warner Educational Grant from the Lakewood Rangers Education Foundation. LHS Rox is one of only three in Cuyahoga County but the program exists in seven states.
DeChant's goal is to provide a space for the girls where "they feel safe, they feel heard, they feel non judged….and they are able to talk about what's real for girls." Ideally, she hopes the 20-week program helps the girls feel better connected to their school community, which could translate into better attendance and better grades.
Outings will also be part of the group's agenda. A mother-daughter self-defense training session is in the works and there are already plans to run a 5K together in June.
The enthusiasm for the group was easy to see at a recent visit to one of the ROX sessions. DeChant has created a welcoming, soothing space for the girls to relax in with mood lighting and inspirational posters on the wall. At the meeting, the girls chatted about creating a playlist of empowering songs that speak to them and also discussed what elements make up the healthy relationships in their lives. The girls were open and eager to share.
This is a pilot year for the program at LHS and DeChant hopes to expand the number of girls involved next year and possibly see it expand to the middle schools as well.
Read More on Schools
Volume 13, Issue 4, Posted 6:40 PM, 02.21.2017