Dive Into the Lakewood High School Pool!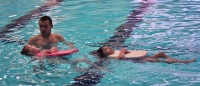 Tucked away in the corner of Lakewood High School, overlooked by a beautiful new academic building, lies the Lakewood High School Pool. Many do not realize that, during the evenings and on weekends, there is a full slate of community programming held at the pool for all ages.
Our learn-to-swim program is the best place to start. Parent and child classes are offered for children as young as one. As children progress, their opportunities grow. Our youth swim team, the Lakewood Rangers Swim Team, offers competitive swimming at the most affordable rate in Greater Cleveland. Other competitive opportunities for children include springboard diving and water polo (through our relationship with the Cleveland Water Polo club).
Adults enjoy the pool with a variety of programs. End your day with Power Water Aerobics with Ann Schwarz, a great workout easy on the joints. Kayakers take the pool over on Saturday afternoons keeping their skills sharp despite the cold outside temperatures. We host the OHIO Masters swim club for 5 workouts a week if you are looking to train for competition or a triathlon.
Our program information, for the Lakewood High School Pool, and our other programs, can be found at www.lakewoodrecreation.com, on Facebook, Twitter or Instagram, all by searching for lkwdrec.
Matt Demaline
I am the Aquatic Manager for the Lakewood Community Recreation and Education Department, and a lifelong Lakewood resident.
Read More on Schools
Volume 13, Issue 4, Posted 6:40 PM, 02.21.2017