Rangers Win Valentines Thriller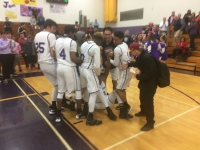 The Lakewood boys basketball team had a sweet surprise for their fans on Valentines Day. They came back from a 14 point second half deficit to defeat Midview at Harding Gym. Junior Raekwon Whitfield sank a pair of crucial free throws with 1.6 seconds left on the clock to provide the margin of victory. Junior center Jacob Sala led the Rangers with 13 points.
Lakewood jumped out to a quick 5-0 lead in the opening 90 seconds, with Sala providing all the points. The Middies then went on a 13-3 run to hold a 13-8 lead after the first period. They stretched the lead to 32-24 at halfime, using a trio of three point shots to widen the margin. The lead ballooned to 38-24 in the first two minutes of the third quarter, and the Rangers appeared headed for defeat. Then Whitfield scored four unanswered points for the Rangers, keeping them in the game. Junior Andy Garcia had four points in the third quarter, helping to narrow the margin to 43-36 after three periods.
The Rangers locked down in the fourth period, stifling Midview with defensive pressure. The Middies were held to only two points in the first five minutes of the quarter, and while junior Liam Doup helped Whitfield and Sala narrow the lead. The comeback was completed with 3:02 left in the game, when Sala hit a pair of free throws to put Lakewood ahead 49-48. THe Middies refused to fold, battling the Rangers right down to the final seconds. They held a 53-52 lead with under ten seconds to play, but the Rangers had the ball. Whitfield was fouled on the possession, and stepped to the line for the decisive free throws. He calmly swished both shots cleanly, sending the crowd into a frenzy.
The win raises the Rangers record to 7-13 on the season. They will host Amherst Steele on Friday, February 24 for Senior Night.
Mike Deneen
Mike Deneen has extensive experience covering sports and community stories for the Lakewood Observer. Mike has been a Senior Industry Analyst for the Freedonia Group in Cleveland, Ohio, since 1998. He has appeared on CNBC's Closing Bell, NPR's MarketPlace and has been quoted multiple times in The Wall Street Journal. He has made multiple guest appearances on ESPN Cleveland radio. Mike also writes for Inside Northwestern, a website that covers Northwestern Wildcat Athletics. You can reach him on Twitter at @MikeDeneen1
Read More on Sports
Volume 13, Issue 4, Posted 2:52 PM, 02.15.2017