High School Sports Updates: Hoops, Football, and Wrestling Notes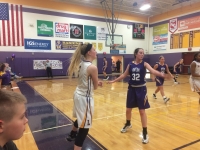 LHS Girls Hoops -- Senior Night and Tournament Info
Lakewood celebrated Senior Night on Wednesday with a 46-38 win over Avon. Seniors Ryann Greenfield, Emma Ribar, and Trinity Nall were recognized in a pregame ceremony for their contributions to the program. The win pushed the Rangers record to 14-7 with one regular season game remaining at Harding on Saturday afternoon. The varsity will face Westlake after the Freshman and JV games. Freshman start at 11am, Varsity expected to start around 2:15pm.
The OHSAA held its tournament draw on Sunday. Lakewood has a bye for the first round of the tournament, then will play a home game at Harding on Thursday, February 23rd at 7pm. They will face the winner of a Normandy/Rocky River game, which will be played Saturday afternoon at Normandy.
Eagles Prepare for Holy War Rematch
The St. Edward hoops team defeated Shaw at home on Tuesday night, taking a 79-33 win. All 17 Eagles got playing time in the game, which was 29-6 after the first quarter. The Eagles next game will be a home rematch with St. Ignatius, which won an epic overtime thriller last month at Sullivan Gymnasium.
Ranger Boys Pull Road Upset
The LHS boys basketball team defeated Avon 59-53 on the road Tuesday night. The win avenges a 72-42 drubbing that the Rangers suffered to the Eagles at Harding on January 6th. Lakewood jumped out to a 21-10 lead in the first quarter, and held off a fourth quarter comeback for the win. Chris Golden led the team with 16 points; Jacob Sala had 15; and Raekwon Whitfield had 12.
The OHSAA Boys Basketball tournament draw will take place on Sunday. The Observer will have info on both Lakewood and St. Ed's seedings when they become available....visit this website for updates.
Lakewood Wrestling Senior Night
The Ranger wrestling team will hold its annual Senior Night ceremony on Thursday evening at Harding Middle School. It will take place before the team faces North Ridgeville and North Olmsted in dual matches. First match is scheduled for 6pm.
"Meet the Coach" Event scheduled for Friday
LHS will host a "Meet the Coach" event on Friday, February 10 at 6pm in the Lakewood Civic Auditorium.
New football coach Tom Hannan will discuss his plans for the program, and field questions from the public.
The event is open to the public, and Coach Hannan would love to meet as many Ranger fans as possible.
So consider stopping by and learning more about the future of the program.
Mike Deneen
Mike Deneen has extensive experience covering sports and community stories for the Lakewood Observer. Mike has been a Senior Industry Analyst for the Freedonia Group in Cleveland, Ohio, since 1998. He has appeared on CNBC's Closing Bell, NPR's MarketPlace and has been quoted multiple times in The Wall Street Journal. He has made multiple guest appearances on ESPN Cleveland radio. Mike also writes for Inside Northwestern, a website that covers Northwestern Wildcat Athletics. You can reach him on Twitter at @MikeDeneen1
Read More on Sports
Volume 13, Issue 4, Posted 11:00 PM, 02.08.2017