Thinking Of An Activity, Look To The Recreation Winter Booklet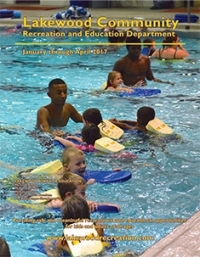 Winter is here and we have plenty of things for you to do! There are some new and exciting class offerings this winter. Whether it is learning a new language like Spanish or the ancient art of Reiki, we have myriad choices to help meet everyone's needs.
Want to learn how to play guitar? We have beginning and teen guitar classes. Need help fixing up your house and want to do it yourself? Try one of Jim Englers "Homework" classes. Or if you want to brush up or learn new computer skills we have quite a few choices to select from.
We have various programs for younger aged children. You can try our Shrimps 1, 2 or 3 swimming classes and see what fun it is with you and your little one. Or our Start Smart Sports program which helps teach your 3-6 year old the fundamentals of a number of different sports in a fun and educational way. Does your child love computers? Try one of our youth Gigalearn, LLC classes. Young Rembrants is back with their elementary after school art program and if you would like to try gymnastics, we have a class for your little tumbler with our Tumble Bugs and Tiny Turners classes. With summer just around the corner, the summer camps are listed in the winter brochure to allow for early planning and registration.
We have a lot to offer this winter at the Lakewood Community Recreation & Education Department. Take a look at our booklet or online at www.lakewoodrecreation.com to see what you can learn next.
Ralph Lundberg
Program Planner, Lakewood Community Recreation and Education Department
Read More on Schools
Volume 13, Issue 3, Posted 4:24 PM, 02.07.2017