Lakewood Art League Looking for New Members - Next Meeting Thurs Feb 16, 2017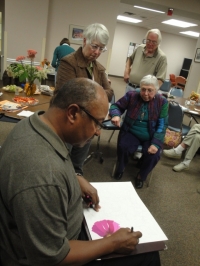 Lakewood Art League is looking for new members. Please come check us out at our next meeting Thurs. Feb 16th at 7 pm where Jerry Wang will be our Presenter with his lovely daughter, who is also a talented musician, in tow as his translator!
Jerry Wang (Guangsheng) Wang is a native of Tianjin, China. He has taught a Chinese traditional instrument - Erhu, at the Tianjin Conservatory of Music for over 25 years. Painting has always been his second passion. His artworks have been published in the Tianjin Daily Newspaper and the Tianjin People's Fine Arts Publishing House Magazine. He has presented his artworks at Cleveland, Ohio areas such as Lakewood Arts Festival, the Rocky River Art Show, the Hudson Public Library, The Cleveland Public Library, and the John Carroll University. Mr. Wang collaborated with the Cleveland Classical Guitar Society. He also gave lectures and art demonstration classes at the Cleveland Institute of Art and the Cleveland State University.
His passion for fine arts has passed on to his elder son, Tony Wang who is now a well established artist and designer in Toronto,Canada. His design firm - TWdesignstudio.ca - specializes in interior design and 3D rendering for major companies in Toronto. Guangsheng Wang is very grateful for his opportunity in America. He hopes to display his passion for Chinese traditional music and art to many people.
We meet the 3rd Thursday of the month, 7:00pm till 8:30. Lakewood Art League (LAL) meetings are held at the Kathleen & Robert Lawther Center, 16024 Madison Ave in Lakewood. (Corner of Madison Ave and Northland Ave.) Join us Thurs March 16th where Troy Blum will be our Presenter. Troy Blum owns Imaginary Studio and studied drawing at the Cleveland Institute of Art. He also went to Garrett Morgan Cleveland School of Science and resides in Lakewood. In addition to being a fine artist, Troy is also a musician.
At LAL's meeting Thurs, April 20th, Mary Ellen Salo will be our Presenter. May Ellen Salo has devoted her life to creating, selling and teaching art in several media. Gouache, acrylic, watercolor, oil paint and clay are recent examples of the media she uses and teaches. She has done many portraits on commission and quite a few students have done portraits of her. She has been a recreation art instuctor for the City of Cleveland where she taught regular and special ed. children and adult classes, the same classes from Cleveland public schools and from 5 different city neighborhoods on the west, east & south of downtown. She taught drawing, painting and clay classes using several media and firing the ceramics in 3 kilns. She is the owner of May-Salo Studio Gallery in Cleveland. They offer portraits on commission, paintings in watercolor, oil, acrylic & guache, ceramic ware, & styles from folk to realism.
The mission of Lakewood Art League is to connect the Lakewood Art Community through diverse, dynamic, and creative experiences that bring artists of all walks of life together to meet, create and talk about contemporary visual art.
Our mission is to retain a dedicated art league membership which is deeply committed to promoting art and art education by bringing in a wide variety of artists to speak and teach on their particular artistic craft each month. Through periodic Art Shows in various locations, including the long-running Lakewood Art League May Show at Lakewood Hospital over the years, we seek to provide a showcase for our member artists as well as a venue to sell our artwork to the public through our Art Displays and Art Shows.
We place an emphasis on the value of visual art in our contemporary lives as artists living in and impacting our community. We are constantly seeking innovative art speakers and presenters to enhance our programming for our members as well as holding monthly meetings that build community in our group, promote art education, and outreach to attracts artists in our community to join our League.
We welcome ALL members of our diverse community and seek opportunities for interaction and access for artists of all ages. Art is for everyone. Creativity is at the heart of everything we do. We provide opportunities for our members to learn about art, themselves, and each other. Learning is an integral part of all of our programs.
The Lakewood Art League improves quality of life for our members and contributes to the vitality of our city. We continue to evolve and grow as an organization to keep pace with our vibrant city and the arts landscape in which we live. We look to the future while celebrating creating art in the past since our founding in 1950.
Call Mary Bodnar, LAL Artist, Membership Chair & Historian, 216/392-4944 for more info. Our annual dues are only $20. We are always looking for new members!
Mary Bodnar
Mary Bodnar is Marketing Manager as well as Licensed Property & Casualty Insurance Agent for Gordon Tower Insurance Agency at 14701 Detroit Ave, Suite # 362 Lakewood 216/663-7777. She is also professional freelance writer who has been published in a wide range of newspapers and magazines – Great Lakes Mariner Magazine, Your Boat Connection, Cleveland/Akron Family Magazine, Lake Erie Living Magazine, CBC (Cleveland Business Connect) Magazine, Cleveland Jewish News and many other newsletters and publications over the years. She is also Editor and Press Agent for the book "Music of Our Spheres: A Collection of Ruminations" by Dillon Bodnar available on Amazon.com. She is co-host of Word Lovers Writers Retreats in Lakeside, OH w/writer friend Claudia Taller. In addition she was the Theater Critic for the Lakewood Observer Newspaper as well as being a regular contributing writer covering human interest stories for the Lakewood Observer. Mary also conducted all the extensive interviews with five ordained women that formed the core of the multi-media production "Making Waves" play. She is also an established workshop presenter and has shared her love of poetry, not only through her dance performance programs but as a poetry writing educator with a variety of groups. Her Odes Writing Poetry Workshop has received accolades from attendees. As a volunteer, she also writes and is the copy editor for her church website and other church publications.
Read More on Arts
Volume 13, Issue 3, Posted 4:24 PM, 02.07.2017