Our Friend Dennis Petkac Has So Much To Live For!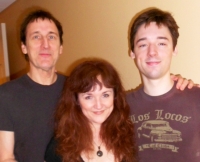 Our friend Dennis is a longtime Lakewood resident and owner of Elements Hair Studio on Madison Ave. He's also dad, a husband, and a pretty damn good musician. Most of all Dennis is a kind, sweet, jovial, creative and generous dear friend to many who are lucky to know him and call him friend. He's also THE best damn story-teller you'd ever want holding court at your party.
2016 was somewhat of an unpleasant year for many and it hit Dennis, his wife Karen and son Olliver especially hard. Beginning some years ago, Dennis and his family have had to overcome several misfortunes which in recent years included some serious family health issues, an abrupt lease termination to his business Elements Hair Studio and a fire to a building under renovation which was to be the new Lakewood home to Elements Hair Studio. Through all these and other hardships, I and many who know Dennis have watched him take it all on and get right back up with few complaints. More striking than each episode of adversity has been seeing Dennis face it all down with few complaints and a casual, confident attitude of just knowing that somehow things are going to be even better. We could all learn something from this.
More recently Dennis, with his family at his side, has been very bravely facing down a tough and unfair fight with cancer. Tough as he is, the illness has left Dennis unable to work for nearly a year at the Lakewood business he's proudly owned and cultivated for more than 20 years. Watching in heartbreak, none of us who care about Dennis and his family can just wish away a cruel and horrible illness like cancer. Adding insult to injury is the cruel reality of the medical bills and all the other incidental family expenses which are quickly mounting in the wake of caring for Dennis.
From personal experience many of us already know what a financial burden this disease can quickly become. This is why Jenn & Mike Pae and I have teamed up to host a fundraiser benefit concert on January 29th at Mahall's 20 Lanes. This event is all ages, family friendly and open to the public. It will run from noon to 11 p.m. Admission is a $10 suggested donation per person. The concert performances will feature 15 local bands donating their talents this afternoon and into the evening. This unique and varied talent line-up will include live performances for all tastes by the following bands and artists:
Aaron Civil War and the Brave Girls
Balloon Knot
Becky Boyd & The Groove Train
Bipolar Bears
Cats on Holiday
City of Invention
Grovewood
Hammered
Jim Volk
KTO
Lisa Ellis/Dark Silos
Noon
Oldboy
Revolution Brass Band
Trepanning Trio
Something for just about everyone, whether you want to just listen to good live music, get up on your feet and dance, or bang your heads! We just need you and your music-loving friends and family to show up and make it an event to remember! And do not forget about all the other great stuff about our dear Mahall's 20 Lanes: tasty food, drinks, bowling, etc.
Adding to the entertainment, we will be holding raffles and auctions of generous donations from several local businesses as well as unique works created by local artists which are valued in the thousands of dollars. At press time event sponsor donors included:
Achieve Fitness Studio, Aladdin's, Borderline Cafe, Campbell's Sweet Factory, Cerny Shoes, Contantino's, Daystar Boutique, Deagan's, Derek Hess Gallery, Forbici Salon, George Shuba Photography, Gray Dog Diner, Gina DeSantis Ceramics, Greek Village Grill, Joe Kleon Concert Pics, Joe's Deli, Kimberly Monaco Designs, Lucky's Cafe, Namaste India Garden, Paisley Monkey, Party Light Basket, Pet's General, Rebecca Haviland, Roman Fountain, Root Cafe, Spin Bike Shop, Susan Kelley, Sweet Designs, Taco Tonto's, The Bottle House, Urban Bulk Foods, Vance Music Studios, and Yuzu.
So mark your calendars, load up your friends and family, stop at the ATM and show up for the party! In the meantime, please check out the Facebook pages and websites of our generous sponsors and give them your business and when you do please thank them for supporting the "So Much To Live For" benefit.
If you are a business owner and would also like to sponsor and support this cause, please contact Anthony Nanni, Jenn Karaffa Pae or Michael Pae via Facebook Messenger.
ALL performance, raffle and auction proceeds from this event will go to directly to benefit Dennis' family!
Tony Nanni
Born in Lakewood Hospital, lived in four different countries, traveled widely, presently a Lakewood resident, Have children in Lakewood schools. Love it here!
Read More on Other
Volume 13, Issue 3, Posted 2:16 PM, 01.24.2017