Fundraising For Autism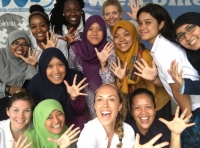 This February I embark on my second trip with the Global Autism Project to Nicaragua. The Project sends 5-10 volunteers several times a year to underdeveloped areas in the world where they've established partnerships with developing centers focused on teaching children with autism. The goal is to provide continuous training to native therapists while respecting the culture, so they can provide therapy to children with autism in their city. The Project is committed to sustainability. I experienced first-hand their honesty and transparency.
I have worked with children with autism for 10 years, and obtained my BCaBA license last year. Summer 2015 brought several painful shifts in my life. The kind where I'm stuck in bed in my Lakewood duplex with my two boxer pups at my side. My boss knew my pain, and suggested I apply to the Global Autism Project. I had heard about the Project through a coworker who went to India the previous year. I also knew that being accepted to the Project meant that I would need to raise $5000 for the nonprofit. But pain is beyond motivating so I sent in my information, had my 1 hour interview with the CEO and next thing I knew I was nonstop posting on Facebook explaining the nonprofit and asking for donations. Asking for help in something I had yet to experience but really believed in. Changing kids' lives. It's hard not to believe in that.
March 2016 I experienced the life-changing trip to Indonesia. I spent 2 weeks with 5 other women from the States and met the hardest working and most dedicated therapists at HI-5 center in Jakarta. We listened, we suggested, we supervised, we went to the streets to spread the word, we danced, we made program lists, we ate incredible food, we laughed, we tried to not complain about the heat, we learned about Hijabs and learned words in Bahasa, we became forever connected. I left Jakarta a better therapist than when I showed up. I learned how being of service is the greatest path to spiritual and personal growth. I experienced first-hand that in feeding others, we feed ourselves. The circular concept that the more I give, the more I receive.
This summer, another painful 'stuck in bed in my Lakewood duplex with those boxers' shift and I once again found myself applying to the Project. That painful motivation gets me every time. I feared it would be difficult to raise another $5000. I was afraid people wouldn't give again and that my excessive social media posts had resulted in a wave of unfollows. But I strive to live a life of humbly walking through the uncomfortableness. I knew the starting point would be to at least ask.
And like magic, you showed up. You showed up to yoga events at Edgewater, and trivia night at the Root Cafe. You gave your time, and your talents and your money. The goodness of human beings continues to amaze me. You gave me the opportunity to head to Centro de Invencion Edu-Therapeutico in Managua, Nicaragua. It is run by the only Board Certified Behavior Analyst in the country and the staff is eager to learn from the volunteers from the Global Autism Project. It is because of people like you, who will never get to see directly the effects of their donations, that truly provide this opportunity to these kids. I am so grateful. If you are interested in donating, please visit https://www.crowdrise.com/skillcorps-nicaragua-february-2017/fundraiser/taraquinn
For more information on the Global Autism Project head to http://globalautismproject.org/.
To follow Tara's travels, @tara.travel.
Tara Quinn is a Cleveland-adoring, transparent and traveling resident of Lakewood. She strives to remain teachable and of service.
Tara Quinn
Tara Quinn is a Cleveland-adoring, transparent and traveling resident of Lakewood. She strives to remain teachable and of service.
Read More on Non-Profit
Volume 13, Issue 2, Posted 1:46 PM, 01.24.2017