Ursuline Professor And Lakewood Resident Appointed To Ohio's Injury Prevention Partnership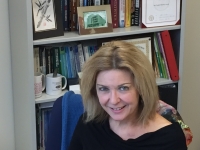 2016 was a banner year for public health researcher Dr. Mary Beth Zeni, RN, ScD, associate professor at Ursuline College in Pepper Pike.
In early December, she was appointed to the Ohio Department of Health's Ohio Injury Prevention Partnership, where she will work with a committee to tackle one of the biggest problems facing the state by working with the partnership's Prescription Drug Abuse Action Group.
This past February she won the Dean's Award of Excellence at Ursuline's Breen School of Nursing. In April she won the Virginia Oslavsky Award from the local chapter of the Sigma Theta Tau International Honor Society of Nursing. In November she gave a presentation at the American Public Health Association's national conference in Denver. Also in November, for the tenth consecutive year, she had a research abstract accepted, through blind peer review, to present her findings at an international research conference at Trinity College Dublin. Next September, she'll present a national maternal-child health conference in Nashville.
"It's very gratifying to be able to address public health issues through research and to share the findings at national and international conferences," Zeni said. "I'm honored to be a future committee member and look forward to contributing with colleagues in public health."
In addition to her teaching and advising responsibilities at Ursuline College, Zeni is conducting population-based research into disparities in access to healthcare, especially care for people with addiction. She is starting to look at the effects that addiction and poor access to care have on families of addicts.
Zeni is focusing specifically on the heroin epidemic in Ohio and the United States by initially analyzing the 2015 database, The National Survey on Drug Use and Health, which is sponsored by the Substance Abuse and Mental Health Services Administration, an agency in the U.S. Department of Health and Human Services.
"The heroin addiction cuts across age, race and income categories and through a population-based data set, we can examine issues both nationally and within the state of Ohio," she said.
Zeni, whose curriculum vitae is more than 20 pages long, has authored 20 publications in both national and international journals. In 2010 she came to Northeast Ohio from Florida State University in Tallahassee to work at both Cleveland Clinic and Ursuline College, before joining Ursuline full time.
"This has been my favorite academic appointment," Zeni said. "Ursuline has a commitment to their students and the focus on teaching. We also have really sharp students. Our graduate students in nursing, especially in the Doctor of Nursing Practice program, are top level."
Dr. Patricia Sharpnack, dean of Ursuline's Breen School of Nursing, is glad to have Zeni on faculty. "Dr. Zeni brings to Ursuline a wealth of professional experience and perspective on public health, which is such an important context for teaching and advising graduate-level nurses. She is well respected in her field, with a strong record of publishing peer-reviewed, evidence-based research findings. Yet over many years of successful research, she has never lost sight of or compassion for the people behind the statistics she analyzes. Dr. Zeni truly cares about people and their access to care. She fits right in at Ursuline College."
Zeni completed a research doctorate in public health in 1993 at the University of Pittsburgh Graduate School of Public Health where her doctoral dissertation was titled, "An Intervention Evaluation Study of Project Caring: Care Coordination for Chronically-Ill Children from Low-Income Families."
The Ohio Injury Prevention Partnership has its next quarterly meeting in February. With grant support from the Federal Centers for Disease Control and Prevention, the partnership is coordinated by the Ohio Department of Health's Violence and Injury Prevention Program. Members of the partnership advise the department of health in identifying state-level priorities and developing strategic plans related to priority injury topics. Further information is available at healthy.ohio.gov/vipp/oipp/oipp.aspx.
Ann McGuire is director of marketing and communication at Ursuline College.
Ann McGuire
Ann McGuire is director of marketing and communication at Ursuline College.
Read More on Features
Volume 13, Issue 1, Posted 8:12 PM, 01.10.2017