Meditation And Everyday Life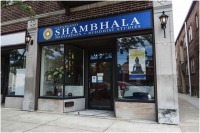 The Cleveland Shambhala Mediation Center moved to its current location at 17903 Madison Avenue in Lakewood five years ago. Part of a global network of over 200 centers, its vision is to establish an enlightened society, a culture in which life's challenges are met with kindness, generosity and courage. Underlying the Shambhala vision is that each human being has a core nature that is basically good and worthy of a spot on this earth. This basic goodness is always with us; we just need to cultivate its natural intelligence and compassion. We do that, according to Shambhala tradition, through the practice of meditation.
Thus, the practice of meditation is central in the Shambhala tradition. The instruction that we offer to new practitioners is called shamatha ("peaceful abiding") and consists mainly of following our breathing in a seated, relaxed, dignified posture. In meditation practice, we cultivate spaciousness and peace in our lives. Beneath the mind's emotional static, we begin to discover a vast reservoir of calmness, clarity and strength. As a result we can be more skillful and discerning as we go about our daily lives. At the same time, we can open our hearts and live more compassionately.
Cleveland Shambhala offers group sitting and walking meditation practice as well as educational/training programs that emphasize the Shambhala principles and incorporating meditation practice into everyday life. Anyone, regardless of spiritual or religious orientation, is invited to visit and can benefit from meditation practice and study.
Hours of Operation – Open and Free to the Public
Tuesday evening: 7–9 pm
Sunday morning: 10 am–12 pm
Website: cleveland.shambhala.org
Email: clevelandshambhala@gmail.com
Phone: 216-236-5090
Read More on Business News
Volume 13, Issue 1, Posted 8:12 PM, 01.10.2017