Lakewood Entrepreneur Introduces "In Your Face" Women's Rights Apparel Line In Time For Women's March On Washington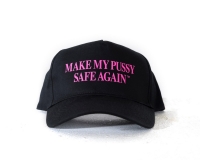 While sitting with friends enjoying dinner at Toast in Gordon Square, Nancy Osgood got a big idea that would promote women's rights and women's safety in an "in your face" way.
"President-elect Trump's hot mic comments during the election were shocking to me and so many other people," said Osgood. "My concern is that those comments and other behavior have normalized disrespect and aggression toward women."
Osgood took inspiration from Trump's iconic Make American Great Again hat. Her message – Make My P**** Safe Again™ - is emblazoned in hot pink lettering on the same five-panel hat Donald Trump wore and that his supporters sold during the campaign. "Love him or hate him, he's a brilliant marketer and mobilizer, so I am borrowing a page from his playbook with 'A Hat of Our Own'," she said.
The message is strong, but Osgood feels it is important for women to take back the term, and to use language that makes people stop, think and take daily action to support the rights and dignity of women.
"My great grandmother was killed in the Holocaust and my grandmother and mother were subjected to incredible indignities and violence in order to survive," said Osgood. "While I wouldn't consider myself an activist, I cannot sit silently in the face of what feels like real danger for women right now."
The hat --and the movement-- shout out, as the website says, against sexual assault, domestic violence, rape, misogyny, bullying, discrimination, oppression, exploitation, victim blaming and growing restrictions on women's reproductive health. Osgood hopes the hat will deliver a strong message that women are not willing to accept that.
"I've been wearing the hat around town, because I want to promote the message and prompt conversation," said Osgood. She's pleased that people have asked her about it, shared their opinions, engaged in productive dialogue and, in some cases, asked to purchase the hat. A man purchased two, one for his daughter and the other for his wife, as Christmas gifts, when Osgood showed him a photo of the hat while the two were talking in Lakewood Park.
The hat is available at www.makemypussysafeagain.com. Osgood will donate $1 for each hat sold to Planned Parenthood.
When asked if there would be other apparel items, Osgood says she is focusing on the hat up until the January 21 Women's March, but plans to introduce other items shortly after that.
Read More on Features
Volume 13, Issue 1, Posted 8:12 PM, 01.10.2017