25th Annual Sale on the Grounds!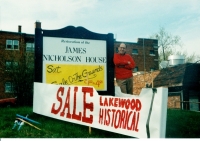 Lakewood Historical Society's Sale on the Grounds celebrates its 25th anniversary this year. Its impetus was the acquisition of the Nicholson House, Lakewood's oldest structure, built in 1835. After the death in 1947 of Josephine Nicholson, the last family member to occupy the house, the property passed from the Nicholson family's ownership. It was divided into four rental units, and was tenant occupied until August of 1988. In 1985 the house was saved from possible demolition when it was purchased by the Lakewood Historical Society and the City of Lakewood.
The first Sale on the Grounds included items left behind by tenants, as well as pieces and parts added to the house over the years that were being removed for the restoration. The proceeds from the sale were used to help fund the work.
Proceeds from Sale on the Grounds still support the Nicholson House, and the programming provided by the historical society. The society also maintains archives and a library, the Oldest Stone House museum, and offers services to Lakewood residents.
Sale on the Grounds is Lakewood's biggest and best opportunity to find incredible merchandise for bargain prices. There are antiques & collectibles; LOADS of jewelry; household goods, kitchenware, small appliances, linens, toys & games, tools & electronics, lawn & garden, sporting equipment and much more. Throughout the year hundreds of people donate items to the society for this sale, and every year we're able to raise the bar on the quality because we receive so many quality items.
The sale begins with the Preview Party on Friday, May 3rd. At $15, it's the best night out in town! Come shop without the crowds, get first crack at the best stuff, and enjoy food and drink with your friends. Rozi's will be handling the bar, and the food is sponsored by Al Hopf and Granny's Attic Estate Sales. Granny's Attic is also the donor of many of the wonderful items featured in our sales. A limited number of tickets to the Preview Party will be sold. They are $15 in advance; $20 at the door, if available. You can pay online via Paypal at lakewoodmuseumstore.com/25th-annual-sale-on-the-grounds/sale-on-the-grounds-preview-party-friday-may-3rd, or send a check payable to Lakewood Historical Society, 14710 Lake Avenue, Lakewood 44107.
The public Sale on the Grounds is Saturday, May 4, 9:00 a.m. – 3:00 p.m. and Sunday, May 5, noon to 3:00. There's no easier way to support the Lakewood Historical Society and find real bargains than shopping the sale. Don't miss your chance to uncover real treasures!
Read More on
Volume 9, Issue 9, Posted 10:39 PM, 04.30.2013