Protect Healthcare And Progress By Voting FOR Issue 64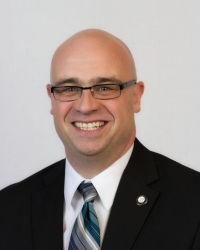 I have committed myself to public service. I work in charity as my living, doing everything I can to meet the needs of the underprivileged, ensuring people can keep their lights on, keep their family fed, keep clothes on their backs and have access to services of all kinds. This was my inspiration for running and serving on City Council, and my guiding principle during my service as a Lakewood Hospital Trustee.
In 2009 I found myself someplace I never thought I would be: the third floor of Lakewood Hospital. My father had had a heart attack at our Lakewood YMCA, and thanks to the incredible work of Lakewood paramedics, he was stabilized and taken directly to the hospital. A day or so later, my father-in-law had a stroke, and was also hospitalized. My wife, Carrie, and I spent our days walking from one end of the third floor to another, visiting our dads. In the days that followed, as both recovered, I realized the importance of access to high quality healthcare in our community.
This led me on a path to getting involved in community affairs as best I could, and when an opening on the Lakewood Hospital Association Board of Trustees opened up, I applied, unsure if my non-profit background was enough to qualify me. I was appointed in 2011, and served until the end of last year.
What I found surprised me. The great people and place that had cared for our fathers were facing very difficult circumstances and decisions. It isn't unlike the families and individuals I see through my non-profit work: people making hard choices between food and keeping the lights on. Here, our hospital was faced long term challenges in overcoming budget deficits while maintaining a 108-year old facility and keeping pace with the competitive, technologically-driven, rapidly-evolving face of healthcare.
It was with these challenges that the Lakewood Hospital Association grappled. Trustees embarked upon several years of research, analysis, and soul-searching to determine a path to financial stability that would enable continued delivery of health care to Lakewood for years to come. We looked at the full spectrum of options--everything from keeping an inpatient hospital to ceasing health care services entirely and converting all funds to a public health foundation. It became clear that the status quo was not an option over the long haul, particularly beyond the remaining lease term. We grew to understand that to keep healthcare in our town for the next 50 years, we needed a partner health system who would bring financial strength and a model of healthcare delivery with a strong, reliable future. The best option became the plan to transform Lakewood Hospital to a state-of-the-art outpatient medical center that would keep dozens of health care services at the same convenient downtown location, continue emergency care uninterrupted 24/7/365, and provide $32 million to a community health foundation. City council negotiated improvements to that plan in 2015 and unanimously approved it last December.
None of us wanted to see the hospital go, but all of us wanted to keep healthcare services for Lakewood patients over the long term. Without action, the hospital would have closed on its own, leaving patients with no emergency care and no health care services of any kind. That would have been irresponsible. Instead, we made a difficult choice that delivers a lot of benefits to Lakewood patients and taxpayers—without any cost to residents.
This proactive approach has set us on a path forward, and anything less than a FOR vote on Issue 64 will delay our progress and add costly legal bills to be paid by taxpayers. An "against" vote WILL NOT reopen the old hospital, nor reopen the bidding process. It just means we could lose out on a new, modern healthcare center and a huge investment in Lakewood.
Accessibility is important for the poor and underserved. Accessibility will stay strong under this plan because we'll keep the vast majority (94 percent) of health care services used before the transition at a convenient location. In addition, it protects health care for Seniors with extensive specialty programs and doctors' offices, and funds a new health foundation that could help provide transportation to see friends and relatives at nearby hospitals.
I am eager to start more of these conversations about improvements and possibilities TOGETHER, for the sake of moving forward. Let's discuss as a community what could be and will be making health care better, rather than what was, or won't be. We have a bright and healthy future ahead of us.
And here's the test of health care quality, for me, personally: with our new state-of-the-art medical center and our uninterrupted 24/7/365 emergency care, I would feel very comfortable if the same situation happened with both of my fathers, and I trust our highly-skilled paramedics to get our loved ones to the most suitable place for their needs. They are a big part of the reason I am so confident in recommending a FOR vote on Issue 64 to my Lakewood neighbors. It's the best way to secure with uninterrupted emergency care and provide high quality care services at a convenient, accessible location primed for Lakewood's next 100 years—at no cost to taxpayers.
John Litten
John Litten serves Ward 3 as its representative on Lakewood City Council. Litten has a background in management community service, with 7 years leading a camp for children and people with disabilities and nearly 5 years as executive director of the St. Vincent de Paul Society.
Read More on Lakewood Health Care
Volume 12, Issue 21, Posted 4:56 PM, 10.11.2016