You Know What's Funnier Than 24? Neither Do I: Reviews Of Recent Releases By Local Bands, Pt. 31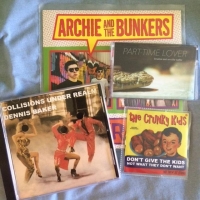 Obligatory Disclaimer: Record reviews are a tricky business. It's one thing to enjoy music, but to, like, pick out what you like about it? That being said, if I review your thing and I didn't like something, don't feel too bad. My opinion doesn't matter all that much.
Archie & The Bunkers/Powersolo - split 7" - Dirty Water Records - 2 songs - 7", download
For this one, mistakes were made and the labels on the record were flipped. So, if you put on the side purported to be Archie & The Bunkers, you may have received an unpleasant surprise in the form of a different sibling duo. However, they're not in any way local, so I shall say no more. As for A&TB's song, "The Roaring 20s," it is everything that is great about Archie & The Bunkers. It's a catchy song, it's well played, it's energetic. I like the drum sound as well, it's nice and boomy. Anyway, pick this one up for the Archie side. Remember not to get confused!
(dirtywaterrecords.co.uk – you kind of have to hunt around on the site to find it, but it's there)
Dennis Baker - Collisions Under Realm - Jib Machine Records/13 Recordings - 10 songs - CD, download
I know nothing about Dennis Baker, but a search on why the label sounded familiar revealed that it's the home of such notables as Guitarman and Hostile Omish. That's all I have to say about that. Most of the songs here are of a variety of acoustic pop rock that really isn't my cup of tea. Especially when it starts sounding Mellencampian ("Lizard Face" especially). However, the best moments are when the songs are pushed over the edge into weirdness, especially on "Coldy Crawls" and "Magic Table Mind." Those ones are definitely the most enjoyable, though even then I can't tell whether there's any humor to them. It's sort of like comparing Factorymen to Robert Bensick– is this a joke, or is this all some sort of weird metaphor? I also can't place exactly who this style is intended to appeal to. Again, not my bag, but there's some interesting enough stuff on here and I know there's some people who would really like this. Just not me. 3/5
(jibmachinerecords.com)
The Crunky Kids - Don't Give The Kids Not What They Don't Want - Hibachi/Distort Everything - 9 songs - 3" CD
This is The Crunky Kids' second release this year, following up on the 7" "In The Face Of The Death Of Death." In fact, a couple of the songs here ("The Extinct" and "Not Dead Yet") are repeats from that very 7". If you're unfamiliar with The Crunky Kids, they play hardcore punk and feature members of Hangnail, Gag Reflex, and many many more (they're an Ohio band, after all). In addition to those two from the 7", other highlights include "No More Room In Hell," a slower one with quiet, spoken vocals that forms a nice bridge between those aforementioned two, and some other standout hardcore numbers like "Complete Vice" and "Follow No Leaders." Just to sweeten the deal even more, the album closes with two Sockeye covers, "Silverware Sucks" and "Scouting." I actually like this one more than the 7", to be honest. It's more raw and energetic and all that fun stuff. If this sounds good to you and you own a CD player that can handle a 3" CD, maybe it's something you should check out. Or maybe it isn't. Who can say? 4/5
(write to Hibachi Records, 497 Owego Street, Painesville, Ohio, 44077-4122 USA or try your local record store)
Part-Time Lover - Brains Out On The Table - self-released - 4 songs - Cassette, download
Here's the debut release from Part-Time Lover, a new band helmed by former Prisoner (ex-con?) Jason Look, as joined by Mandy Look (Goldmines), Pat O'Connor (Coffinberry), and Roseanna Safos (Sister Smirk) (and another Prisoners member, Sam Goldberg, but I think he's a guest star as opposed to a full member). I guess that makes it a supergroup, but by that logic, every single band in Cleveland is a supergroup. As for the music here, it's I suppose what you'd expect from a mash-up of all those bands I just said. "Out Of My Control" is good indie folk rock but with a psychedelic feeling, provided by the lead guitar and synthesizer. "Living In The Past" has got a sunshine pop thing going on, as well as something resembling "Magical Mystery Tour"-era Beatles. The instrumental bits are kinda New Planet Trampoline-esque to me, but maybe I'm wrong. "Motorist" is more of a rocker, with lots of lead guitar. "Feel The Beat" is another solid one, more folky (the acoustic is higher in the mix). It's a perfectly fine release all the way through. I don't love it, but it's a pretty good start, and I'm interested in hearing how they progress. If you're a big fan of the type of music described here, though, you should get on it. 3.5/5
(part-timelover.bandcamp.com)
Are you a local-ish band? Do you have a record out? Email vaguelythreatening@gmail.com or send it directly to Observer headquarters: The Lakewood Observer, c/o Buzz Kompier, 14900 Detroit Avenue, Suite 205, Lakewood, OH 44107.
Read More on Arts
Volume 12, Issue 18, Posted 4:10 PM, 08.30.2016