Senator Skindell Receives The Nature Conservancy's Conservation Leader Award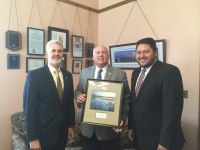 Senator Michael Skindell (D-Lakewood) recently accepted The Nature Conservancy's Conservation Leader Award.
"It is an exceptional honor to be selected for this award. The Nature Conservancy has been a notable leader in the conservation movement," said Senator Skindell. "I have made it a top priority in my time in the legislature to make sure our diverse natural resources are protected and restored, and I will continue to do so."

The Nature Conservancy is an organization dedicated to the preservation and protection of the lands and water in order to sustain the diversity of life. The Conservation Leader Award is presented in recognition of exceptional leadership in advancing state conservation and environmental policy issues that improve the quality of life for all Ohioans.

Senator Skindell was chosen for this award because of his work in protecting Lake Erie, including a bill to prohibit offshore drilling, improve the lake's shoreline, and promote safety and minimize risk when drilling for oil and gas.

Tony DiMenna
Michael J. Skindell (D-Lakewood) was elected to serve Lakewood, Cleveland and Ohio's 23rd Senate District in November, 2010. He comes from the Ohio House of Representatives, where he served four terms as the Representative for Ohio's 13th House District. After graduating cum laude with a bachelor's degree in business and political science from Walsh College, Skindell earned his law degree from the Cleveland-Marshall College of Law. He represented the people of Lakewood as a Councilman at Large between 1998 and 2002.
Read More on Other
Volume 12, Issue 18, Posted 4:10 PM, 08.30.2016