Lakewood Chamber of Commerce Hosts 60th Annual New Teacher Luncheon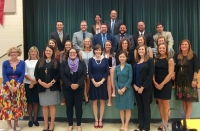 Each August the Lakewood Chamber of Commerce continues the long-standing tradition that began in 1957: the Annual New Teacher Luncheon. The business community recognizes the importance of educating students for the workforce demands of the 21st century, and it demonstrates that awareness by inviting all teachers, support staff and administrators who are new to Lakewood's public and parochial schools to a banquet in their honor. This year the Lakewood Chamber of Commerce invited 35 new educators, administrators, and staff members to the 60th Annual New Teacher Luncheon.
This year's luncheon, sponsored by Ohio Educational Credit Union, was held at Garfield Middle School on Friday, August 19th and was catered by Italian Creations. Each new teacher and administrator received a complimentary meal courtesy of Chamber members who "took a Teacher to lunch." They also received a bag full of gifts plus door prizes – all donated by local businesses.
"The New Teacher Luncheon is always one of our most popular events" said Patty Ryan, CEO & President of the Lakewood Chamber of Commerce. "I'm always impressed with how generous our local businesses are when it comes to our teachers, and the teachers very much appreciate the warm welcome from the Chamber and the business community." In addition to hearing remarks from Lakewood City Schools Superintendent Jeff Patterson and Jocie Miller from Ohio Educational Credit Union, the new educators and staff also had the opportunity to visit with representatives from AXA Advisors, Beck Center for the Arts, The Lakewood Historical Society, Intuitive Risk Management, Steve Barry Buick, North Coast Health, Shinn Lanter LLP and Lakewood Teen Health Center to learn more about the products and services that these organizations have to offer.
The Annual New Teacher Luncheon provides an exceptional opportunity for the Lakewood business community to show their great corporate spirit in welcoming new teachers and administrators to Lakewood. The Lakewood Chamber of Commerce is proud to host this event – one of the longest-running teacher welcome events in the State of Ohio. For a list of supporting businesses and event photos, visit lakewoodchamber.org.
Read More on Business News
Volume 12, Issue 18, Posted 4:10 PM, 08.30.2016