Local Artisan Celebrates Lakewood With Wearable Designs From Lakewood BLK LBL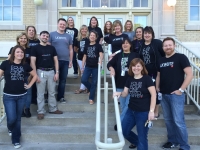 If you've lived in Lakewood for any length of time, you get it: "Lakewoodites" embrace a style, vibe and community spirit that's uniquely theirs. Local artisan and businessman, Patrick Kellett, founder and creative director of Lakewood BLK LBL (Black Label), has taken his love for Lakewood to the next level by designing a line of apparel that captures the character of his adopted hometown.
"I've lived in Lakewood for five years and in that time, I've really connected with the city and its amazingly diverse culture," Kellett said. "I wanted to share my passion for Lakewood in a fun and creative way that reflects the personality of the community and clothing is a great way to do that."
With a small investment and a graphic design degree from Kent State University, Kellett launched Lakewood BLK LBL in 2013 from his basement after realizing that the city was ripe for custom apparel. "There are great clothing designs for Cleveland everywhere you look, but I wanted to narrow the focus to Lakewood," Kellett said.
Kellett began by selling custom-designed unisex T-shirts at local events, including the Taste of Lakewood, the Lakewood Arts Festival and the Last Minute Market. The shirts were so popular that Lakewood BLK LBL has since expanded its collection to include women's T-shirts and tank tops and a hoodie that feature Kellett's signature, Lakewood-centric designs. New designs are periodically introduced to keep the collection fresh.
"The designs are uncomplicated, yet trendy and inspired by my interactions with people in the community and the research I've done on the city," Kellett said. "It's all about tapping into and expressing Lakewood pride."
The modern and universal designs have become so popular, they've even gone international. One fan proudly displayed her Lakewood love all the way from India in a photo she shared with Kellett.
Some of Lakewood BLK LBL's biggest fans work at Horace Mann elementary school. After purchasing a shirt at a local show, a Horace Mann teacher invited Kellett to visit the school and soon the entire faculty was sporting new Lakewood BLK LBL threads and showing off its Lakewood pride. Kellett has returned to Horace Mann for a number of trunk shows (to arrange a private trunk show, contact Lakewood BLK LBL).
Looking ahead, Lakewood BLK LBL would like to expand its brand to other products while keeping the focus on Lakewood. Sales Director Derrick Clinton, who joined the company in 2013, emphasizes that Lakewood BLK LBL shirts are popular with all ages because they capture the essence of the city and the people who live here. The high-quality, locally-printed shirts are affordably priced, beginning at $20. Tank tops are $25 and hoodies are $35.
"There's something awesome about sharing your passion for something and watching people embrace it," Kellett said. "When I see our products on the street, it's great to know that someone chose to wear my design that day."
Lakewood BLK LBL products can be purchased online at lwblacklabel.com and at the upcoming Lakewood Arts Festival on Saturday, August 6. You also can follow their story on Facebook at LakewoodBLKLBL.
Mike Deneen
Mike Deneen has extensive experience covering sports and community stories for the Lakewood Observer. Mike has been a Senior Industry Analyst for the Freedonia Group in Cleveland, Ohio, since 1998. He has appeared on CNBC's Closing Bell, NPR's MarketPlace and has been quoted multiple times in The Wall Street Journal. He has made multiple guest appearances on ESPN Cleveland radio. Mike also writes for Inside Northwestern, a website that covers Northwestern Wildcat Athletics. You can reach him on Twitter at @MikeDeneen1
Read More on Business News
Volume 12, Issue 15, Posted 1:14 PM, 08.18.2016