Rotary Sends Layettes To New Mothers In Nicaragua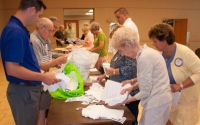 On July 25, as an international service project, members of the Rotary Club of Lakewood and Rocky River prepared 50 Rotary-branded layette bags filled with products commonly available to new mothers in the United States for expectant mothers in Chinandega, Nicaragua.
In Chinandega, a women's maternity care shelter can house up to 40 pregnant women who are about to give birth. The local hospital will not admit a woman unless she is expected to deliver within eight hours. She must then leave the hospital the following day. Many poor women from outlying villages travel to Chinandega to deliver and stay at the shelter until they go into labor. If necessary, they can return there after they deliver. The shelter serves over 1,600 women per year and many of the mothers, as young as 12, have nothing to give their child a start in life.
The layettes contain items that will help these mothers and their babies survive the birth and first crucial days afterward in a safe, clean place. Items that will be included in the bags are cloth diapers, newborn tee shirts, bath, hand and wash cloths, baby shampoo and soap, diaper rash ointment, cotton balls, receiving blankets, baby nail clippers, small manicure set, comb/brush set for the mother and more.
Rotary clubs throughout the U.S. participate in the layette project. This year, Rotary clubs will prepare and send over 500 layettes to Chinendega.
Clubs will also assemble shoe boxes for the Children of the Dump in Chinendega. Filled with toiletries, an outfit of clothes, school supplies, and items like games or toys depending on the child's age, the shoe boxes serve as an encouragement to the children to remain in school. In order to receive one of the gift shoe boxes the child must be attending school and earning satisfactory grades. The goal of the project is to break the cycle of poverty through providing food, education and programs to encourage good health.
In 2007, Jack Young, past governor of Rotary District 6630, started the shoe box program in Northeast Ohio in conjunction with districts in Michigan and Iowa. Since then, PDG Young has been responsible for sending 4,500 shoe boxes, layettes, one fire truck, three ambulances, over $100,000 in firefighting equipment and $300,000 in medical supplies to the area.
The layette bags and other items are taken from here to Troy, Michigan, where they are packed with items from other Rotary clubs and shipped at no charge by Walmart to Waterloo, Iowa, then on Houston, Texas. The items are then loaded into a shipping container by Rotary friends to the Port of Honduras. Rotarians and others will come across the border from Nicaragua to help get the bags through customs and then transport them to Chinendega.
It takes three to four months to get the items from Ohio to Nicaragua.
Each year, PDG Young and other Rotarians travel to Chinendega to witness and participate in the work being done there.
Read More on Civic Groups
Volume 12, Issue 17, Posted 10:25 PM, 08.16.2016