Tickets On Sale For 4th Annual Lakewood Wine & Craft Beer Festival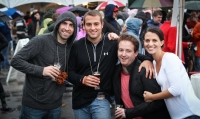 LakewoodAlive announces that tickets are now on sale for the 4th Annual Lakewood Wine & Craft Beer Festival, taking place Saturday, September 10, from 5-10 p.m. in Downtown Lakewood. Tickets can be purchased online at www.WineandCraftBeerFestival.com.
The burgeoning wine and craft beer industries, both locally and across the nation, will be on full display within a two-story, open-air parking deck in the heart of Lakewood's downtown district. The festival is held behind the INA Building at 14701 Detroit Avenue in Lakewood. Festival attendees will have an opportunity to sample from a wide selection of 150+ choice adult beverages.
The festival represents a fundraiser for LakewoodAlive and the Downtown Lakewood Business Alliance, a program of LakewoodAlive, aiding in the continued revitalization of Downtown Lakewood. Emerging as a popular tradition to close the summer season, the Lakewood Wine & Craft Beer Festival has sold out in each of the last three years, drawing 2,000 attendees annually.
Guests at this year's Lakewood Wine & Craft Beer Festival will receive a commemorative tasting glass, 15 sample tickets and access to The University of Akron Wine & Beer School. Food will be available for purchase from several of Lakewood's best restaurants, and live music will be heard from the First Federal Lakewood Stage throughout the event.
General Admission tickets will be available for $40 in advance and $50 at the gate, though this festival is expected to sell out. Designated Driver tickets are available for $10 (pre-sale only).
A limited number of VIP tickets will be available for purchase online for $65. This exclusive opportunity entitles guests to early entrance at 4 p.m., access to a selection of premier wine and beer offerings, an assortment of complimentary food, admittance into the VIP tent with VIP-only restrooms and more.
Only 200 VIP tickets and 1,800 General Admission tickets for the Lakewood Wine & Craft Beer Festival will be offered, so it's recommended that you secure your tickets early.
"We're thrilled to announce the 4th Annual Lakewood Wine & Craft Beer Festival," said Ian Andrews, Executive Director at LakewoodAlive. "This popular community event affords us yet another opportunity to foster and sustain vibrant neighborhoods in Lakewood. We invite wine and beer enthusiasts from Lakewood and across the region to attend and enjoy our festival."
This event is intended for guests aged 21 and older. Due to safety concerns, dogs will not be permitted. Visit www.WineandCraftBeerFestival.com to learn more.
LakewoodAlive thanks the following generous sponsors of the Lakewood Wine & Craft Beer Festival: First Federal Lakewood, Rozi's Wine House, Sprokets, Geiger's, The University of Akron Lakewood, Great Lakes Brewing Company and Platform Beer Co.
Matt Bixenstine
I am the Marketing & Development Manager for LakewoodAlive. I enjoy all things Lakewood, especially walking my basset hound through Madison Park.
Read More on Foodwood©
Volume 12, Issue 15, Posted 4:38 PM, 07.19.2016