New Political Group Takes Root In Lakewood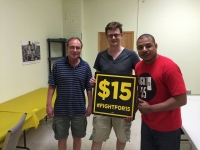 As you already know, presidential candidate Bernie Sanders recently endorsed Hillary Clinton for the democratic nomination. This left many political observers wondering what will become of Bernie's enthusiastic corps of volunteers. The NEO for Bernie operation, which has hundreds of volunteers and thousands of donors, has transitioned into the Cuyahoga County Progressive Caucus (CCPC), a countywide group that will be based here in Lakewood.
After the final primaries a few weeks ago, Bernie Sanders called upon his followers to continue fighting for progressive causes beyond this year's election. Leaders of his local campaign operation took that advice to heart, and began planning for a new organization. With a mission to educate, organize, & mobilize Cuyahoga County, the CCPC will partner with progressive activists and organizations to address national issues on a local level. A snapshot of the issues the CCPC will take up and organize around include:
Support $15 minimum wage legislation at the local, state and federal levels.
Transition towards a single payer healthcare system while working locally to increase access to quality healthcare for the economically disadvantaged, the disabled, seniors and working families.
Fight for reform of the justice system.
Seek to eliminate systemic racism and classism by standing together in the streets, city halls, state houses and DC.
Dedicate resources to initiatives that address climate change and support renewable energies.
Bring to light corruption in our political system.
Encourage infrastructure investment in the communities with the most need.
Support candidates who embody these values and bring lasting change.
Lakewood resident Tristan Rader serves as Operations Director for the new group. "Bernie did a great thing to bring together," says Rader, who first began volunteering for Sanders in early 2015. Rader strongly believes that supporters will stay active. He is very pleased with public reaction to CCPC, which gained over 200 members in its first couple days of recruitment. Rader says the group is already reaching out beyond its Sanders roots, encouraging Clinton supporters to come aboard. "Some progressives supported Hillary this year," he pointed out, "we plan to work with those who feel strongly about our issues."
Steve Holecko, another veteran of the Sanders campaign, serves as political coordinator for CCPC. Holecko credits Sanders for sparking a progressive movement in the area. "The Bernie campaign was the one I waited for my whole life," says Holecko, who himself ran for office in 2014. "I have the luxury of pursuing this full time," says Holecko, who is a retired teacher. Holecko is encouraged by the fact that one-half of the group's membership is from the east side, which demonstrates the countywide appeal of the movement.
The group's first public event will be a viewing of the film "Pay 2 Play: Democracy's High Stakes" on Wednesday, July 20th at 6 p.m. The event will take place at the Bevy in Birdtown, located at 12112 Madison Avenue in Lakewood. To learn more about the group or to join, visit their website at www.cuycpc.org.
Mike Deneen
Mike Deneen has extensive experience covering sports and community stories for the Lakewood Observer. Mike has been a Senior Industry Analyst for the Freedonia Group in Cleveland, Ohio, since 1998. He has appeared on CNBC's Closing Bell, NPR's MarketPlace and has been quoted multiple times in The Wall Street Journal. He has made multiple guest appearances on ESPN Cleveland radio. Mike also writes for Inside Northwestern, a website that covers Northwestern Wildcat Athletics. You can reach him on Twitter at @MikeDeneen1
Read More on Other
Volume 12, Issue 15, Posted 4:38 PM, 07.19.2016