First Ohio Historic Tax Credit Awarded in Lakewood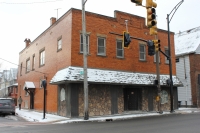 This week, the Ohio Development Services Agency announced awards of $27.8 million in Ohio Historic Preservation Tax Credits to 26 applicants for the rehabilitation of 39 historic buildings across Ohio.
One of the projects that won Ohio Historic Preservation Tax Credits is the first for the City of Lakewood. Located in the National Register-listed Birdtown Historic District, the small mixed-use building at the corner of Madison and Lark will undergo a complete exterior and interior rehabilitation. Known by many as the former location of The Corner Pub, the most noticeable change will be the removal of the 1970s wood shingle roof and faux rocks that cover and enclose the building's two storefronts. Remnants of the original storefronts remain buried in the alterations and will be used to guide the design of the new wood and glass storefronts slated to be installed later this summer. The commercial space will again open to the street and be renovated for a new tenant. The six existing apartments will be upgraded with new kitchens, bathrooms and finishes.
The building has been named The Veronika for one of its original owners, and will be rehabilitated by developer and new owner Frank Scalish. Frank is also the owner of Scalish Construction, which is located in another historic building he owns and has rehabilitated a few blocks west on Madison. Despite the altered storefronts, The Veronika was eligible for historic tax credits because of its architectural character, quality craftsmanship and materials, and location within the historic district. That matched well with Frank's passion for old buildings, which if lost, can't be recreated due to cost, lack of quality materials and skilled craftsmen. Frank noted "this project will be an example to other Lakewood property owners that an investment in preservation and the use of historic tax credits, even on a small scale, can be impactful to the project and the larger community." In addition to $82,402 in Ohio historic tax credits, the project will earn $66,000 in Federal historic tax credits and use Lakewood's storefront renovation program to help with construction costs.
Be sure to watch the transformation of The Veronika this summer. Questions regarding National Register eligibility and listing, or Federal and Ohio historic tax credits can be forwarded to Heather Rudge at heather@hpgroup-llc.com
The state allocates approximately $30 million in credits twice each year, through a competitive process where demand far exceeds supply. This time, in Round 16, 44 applicants sought $64.7 million in credits to renovate 71 buildings. The awarded projects are expected to leverage approximately $261.4 million in private investments in 14 communities. For more information on the project awards and the Ohio Historic Preservation Tax Credit Program, visit https://development.ohio.gov/cs/cs_ohptc.htm
Heather Rudge
Historic Preservation Consultant
Read More on Real Estate
Volume 12, Issue 14, Posted 4:11 PM, 07.06.2016