Lucinda Einhouse Named 2016 Lakewood Chamber Of Commerce Business Person of the Year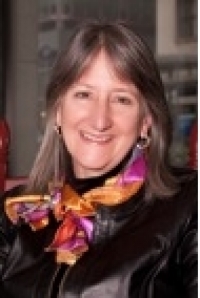 Ms. Lucinda Einhouse, President and CEO of Beck Center of the Arts, has been selected as the Lakewood Chamber of Commerce 2016 Business Person of the Year.
Lucinda (Cindy) Einhouse began her tenure as President and CEO of Beck Center for the Arts, in Lakewood Ohio, in May 2007. Serving the community for over 80 years, Beck Center for the Arts offers professional theater productions, gallery exhibits, arts education classes for all ages, outreach programming, and creative arts therapies for children and adults with special needs. Beck Center engages over 60,000 people annually from 64 zip codes and five counties resulting in an economic impact of $10 million per year in Cuyahoga County due to vendor and visitor spending, according to a 2006 study by Impact Economics, an independent research firm.
Joining Beck Center at a time when it was near bankruptcy in 2007, with annual deficits averaging $500,000 and an accumulation of substantial debt, Ms. Einhouse has worked closely with staff and the board of directors to stabilize the organization's finances and build internal capacity to generate both earned and contributed revenue. Beck Center not only survived the economic downturn of 2009, it emerged fully engaged as an integral part of Northeast Ohio's cultural fabric.
Her educational background includes an MBA from Cleveland State University and a BA in Music from Kent State University. She began her career at Playhouse Square Foundation (the second largest performing arts center in the country) in 1980, building an annual fund program and assisting with a capital campaign to raise $37.7 million to renovate the historic Playhouse Square theatres.
In 1995, she was recruited to the Cleveland Clinic as part of a management team to conduct a $225 million capital campaign, which concluded ahead of schedule in 2000. She was also liaison to the development departments of hospitals within the Cleveland Clinic Health System, and served as advisor and manager of three of those development departments.
In 2001, Ms. Einhouse was recruited to the Cleveland Institute of Music (CIM) to direct a capital campaign to raise $40 million for facility expansion and endowment. The Campaign was successfully completed in September, 2006.
Ms. Einhouse has been a member of the Board of LakewoodAlive since 2013, a non-profit economic development organization, where she is on the Executive Committee and chairs the Community Forum Committee. She served on the Board of the Lakewood Chamber of Commerce from 2008-2015 and was Chair of that board from 2013 to 2015.
She co-founded the North Coast Women's Sailing Association in 1995, dedicated to encouraging the development of self-confidence, teamwork, and mentoring in the sport of sailboat racing. Ms. Einhouse has been a participant performer and event host for the past 16 years in a community leaders' chorus to benefit the Cleveland Rape Crisis Center. She co-chaired the Arts Outreach Committee for the Gay Games 2014 in Cleveland, one of the biggest sports and cultural events in the world, dedicated to promoting inclusion and an open and affirming environment for all.
She is a native Clevelander, a graduate of James Ford Rhodes High School in Old Brooklyn, and has been a resident of Lakewood since 1980. She and her husband of 33 years, Tom Einhouse, have two sons, ages 22 and 18.
For Cindy's role in ensuring Beck Center's viability, growth, and continued presence in Lakewood, her support of the Lakewood business and non-profit communities, her service to the Lakewood Chamber of Commerce and for her passion for Lakewood as a great place to live, work, play and do business, the Lakewood Chamber of Commerce is proud to recognize Ms. Cindy Einhouse as their 2016 Business Person of the Year.
The Lakewood Chamber of Commerce presented the 2016 Business Person of the Year award to Cindy Einhouse at its Annual Awards Luncheon at Vosh Lakewood on June 17th.
Read More on Business News
Volume 12, Issue 13, Posted 8:13 PM, 06.21.2016