Frank Scalish Named Lakewood Chamber Of Commerce Outstanding New Member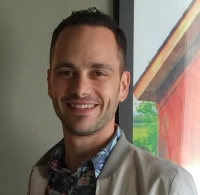 Mr. Frank A. Scalish, owner and founder of Scalish Construction, a Historic Construction Company on Madison Avenue that specializes in preservation, restoration and specialty construction, has been selected as the Lakewood Chamber of Commerce Outstanding New Member for 2016.
Graduating Cum Laude from Cleveland State University, Frank earned a Bachelor in Business Administration majoring in Management and Labor Relations. Frank's degree has enabled him to lay the foundation for his business. In addition to his degree, Frank studied art, architecture, and apprenticed with a master stone, marble, and wood sculpture artist to give him a comprehensive view of his subject.
Frank's first venture was a start-up painting and remodeling company. He then furthered his expertise in the field by holding the position of National Project Manager for a retail image consulting company. There his responsibilities included interior design and build, value engineering, as well as exterior signage and imaging from inception to completion.
Frank is passionate about historic preservation and restoration and is globally conscious about our environment. He is a member of the Lakewood Historical Society and the Cleveland Restoration Society. He also serves on the Gordon Square Local Landmarks Design Review Board and is a contributing member of the Lakewood Heritage Advisory Board, the Lakewood Chamber of Commerce and Pillars. In the past, he served on the finance council and is the chairman for the building and grounds committee for The Shrine Church of St. Stanislaus.
He is active and extremely knowledgeable in the City of Lakewood's storefront renovation program. Frank supports the green movement and incorporates these principles into his building practice wherever possible. Frank has always been a forward thinker and has implemented his philosophies: repurpose, reuse, and recycle in both his business and private life.
Besides his passion for historic preservation and restoration, Frank enjoys living a sustainable lifestyle. His many hobbies include growing and cooking the food he loves from numerous recipes he has acquired throughout his local and international travels with his wife, Maria.
Frank and Maria are blessed with two sons Xavier Francis and Josiah Giuseppe and one daughter Sisely Giovannina - in addition to their four legged children, their boxers.
The Lakewood Chamber of Commerce is pleased to recognize Mr. Scalish as the 2016 Outstanding New Member for his numerous and substantial contributions through his participation on the Chamber's Economic Development Task Force. Frank has been instrumental in engaging contractors and construction companies that do business in Lakewood to partner and collaborate for best business practices and to increase the visibility of their businesses.
The Lakewood Chamber of Commerce will present the 2016 Outstanding New Member award to Mr. Frank Scalish at its Annual Awards Luncheon at Vosh Lakewood on June 17th.
Read More on Business News
Volume 12, Issue 13, Posted 8:13 PM, 06.21.2016