2016 College Club West Scholarship Winner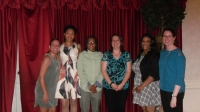 College Club West had the Annual Meeting and Scholarship Dinner on Wednesday June 1, 2016.
These six extraordinary young women were each given a $2500. tuition award to continue with their college education. Scholarships are awarded every year to woment 25 years or older residing in Cuyahoga, Lorain, and Medina Counties, who are already enrolled in a degree-granting program. CCW has been awarding these scholarships since 1972. The awards are based on educational goals, financial need, and academic record. College Club West is a non-profit organzation offering diverse interest groups for the benefit of college-educated women. For more information visit our website at www.collegeclubwest.org.
Anne Nehoda
CCW Press Historian
Read More on Non-Profit
Volume 12, Issue 13, Posted 8:13 PM, 06.21.2016