13th Annual Taste Of Lakewood Set For June 5th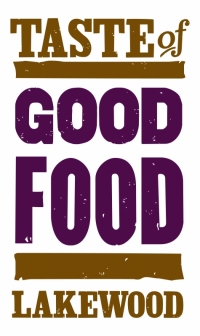 The 13th Annual Taste of Lakewood, co-presented by the Lakewood Chamber of Commerce and Cleveland Magazine, will be held on Sunday, June 5th at Madison Park from 1-7 p.m. Although the Taste of Lakewood is all about promoting and celebrating Lakewood's outstanding restaurants, a couple of new tasty ingredients have been added to this year's outdoor day-long food festival.
New restaurants for 2016. Thirty-five food vendors will be at the 2016 Taste of Lakewood, and the following restaurants will be participating for the very first time: Barroco Grill, Burgers 2 Beer, Chow Chow Kitchen, Georgetown, Roxu Fusion, Salt (opening June 2016), Sarita, Thai Thai, The Detroiter, The Proper Pig Smokehouse, and Woodstock BBQ. See the entire list of food vendors at www.tasteoflakewood.com.
Expanded Beer & Wine Area. For the first time, the area for enjoying an adult beverage will be expanded to the entire event area. Attendees (21+) will be able to enjoy a beer or a glass of wine while deciding which food vendor to visit next, relaxing on a blanket in the grass, shopping in the "Good Stuff" Merchant Market, or dining under one of the large white tents.
Entertainment on the GOOD TUNES Stage. Three bands will provide the music on the First Federal Lakewood "Good Tunes" Stage at the Taste of Lakewood. The Lakewood High School Jazz Band, under the direction of LHS Band Director Clinton Steinbrunner, consists of 26 talented musicians in grades 9-12 and has performed as part of the Tri-C Jazz Fest and at various Lakewood community events and concerts. FireSide Lakewood, an acoustic rock band from Lakewood and a crowd favorite, returns by popular demand. And performing for the first time at the Taste of Lakewood: Lost State of Franklin. LSF has performed multiple times in Europe and played over 500 American shows. The band has been nominated for numerous awards, such as Scene Magazine's "Songwriter of the Year," Free Times' "Americana Band of the Year," and #1 played band on the monthly tallies of college radio shows of every genre from Folk to Punk to Country to Americana.
The Pier W VIP Experience. Enjoy the Taste of Lakewood "VIP style" in the Pier W VIP Tent. The $50 VIP ticket includes reserved VIP parking, seating in the VIP tent, two food items of your choice delivered to your table, separate VIP bar, two drink tokens, dessert provided by Pier W, and a chance to win a complete Dinner for Four at Pier W. A limited number of tickets will be sold for the two VIP seatings – buy your tickets today.
The GOOD STUFF Merchant Market. Purchase unique items at the "Good Stuff" Merchant Market from over 30 Lakewood-based retailers, artists, craftspeople, and event supporters. From ceramics to handmade soaps, from fused glass art to vintage furniture – the merchant market will have something for everyone.
The GOOD FOOD Kids Garden Tent. Join the Lakewood Earth & Food (LEAF) Community in the Good Food Kids Garden Tent from 1-4pm. Paint a pot for your vegetable seedling and take home a healthy recipe to try (limited to first 200 visitors). The Good Food Kids Garden Tent is sponsored by Cleveland Clinic Lakewood with support from Lakewood Garden Center and the LEAF Community.
Last year over 13,000 people visited the Taste of Lakewood. This event funds the Lakewood Chamber of Commerce scholarship program that rewards deserving college-bound seniors from Lakewood and St. Edward High Schools. Admission is free (suggested $1 donation). Parking is limited – visit www.tasteoflakewood.com for information on the best ways to get to the Taste of Lakewood.
Don't miss Lakewood's unofficial kick-off to summer - bring your friends and join us for a great day of food and music at the 13th Annual Taste of Lakewood!
Follow the Taste of Lakewood:
facebook.com/tasteoflakewood
twitter.com/tasteoflakewood
instagram.com/tasteoflakewood
#tasteoflakewood
Read More on Business News
Volume 12, Issue 10, Posted 3:33 PM, 05.10.2016