It's Simply A Miracle That I Can Even Think: Reviews Of Recent Releases By Local Artists, Pt. 22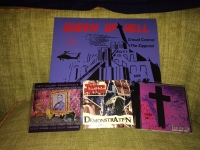 Obligatory Disclaimer: Record reviews are a tricky business. It's one thing to enjoy music, but to, like, pick out what you like about it? That being said, if I review your thing and I didn't like something, don't feel too bad. My opinion doesn't matter all that much.
Fascinating - Songs From A Tomb - Quality Time Records - 9 songs - CD, download
Fascinating is another new addition to the Quality Time Records artist roster. This is their debut release, supposedly a demo of sorts. I guess that's fair to say, because they actually have a full band now, but on this CD it's almost entirely Ricky Hamilton. A lot of this album reminds me of the early Nico Missile stuff, like the first 7" and cassette, which makes total sense as that stuff was also almost entirely Ricky Hamilton. If I say his name a third time in this review, do you think he'll show up, like some kind of Cleveland music scene Beetlejuice? Oh, wait, no, that's Adam Spektor. Anyways, where was I going with this? Oh, right. So, I assume the album title is a reference to the Leonard Cohen album "Songs From A Room," and given that one song here is called "Lenard Cowen," about sitting around and listening to Tom Waits (that's a joke, if you couldn't tell), I'd think it's safe to say that he's an influence. The music is arty pop-rock in sort of an '80s alternative rock style, with catchy melodies and fuzzed out guitars. My favorites here were the opening track "Always Later," "Lenard Cowen," as I can relate to the lyrics of sitting around and listening to records, and "What You're After," which at times sounded like the guitar and drums might be playing two different songs, which just made it even better. Some might even call it…fascinating. Oh, and I-guess-full-time band member Marty Brass (you may remember him from some of your other Quality Time favorites, like The Nico Missile and Pig Flayer, both of which also feature Ricky Hamilton- wait, there's three! And still no Ricky! Darn.) makes an unexpected appearance as drummer on the closing track, "Empty Planet." The production kind of goes all over the place, as it was recorded at several different locations in Cleveland, but it was all audible, and it's a demo anyways, so, whatever. Plus, in addition to featuring lyric-relevant quotes from Patti Smith and Dostoyevsky, the CD booklet also features nearly-complete lyrics ("Tonight Is For Love" was not included, I assume because of space constraints), which is pretty cool. Personally, I'm waiting for the non-demo release, which, I assume, will feature the rest of the band. That'll be cool. So, if you read anything I just said and thought it sounded…fascinating, or you just like the other stuff on Quality Time, you'll probably like this one too. 4/5
qualitytimerecords.bandcamp.com
New Planet Trampoline - Dark Rides And Grim Visions - Stow House Records/Davenport - 13 songs - CD, 2xLP, download
After a long hiatus, New Planet Trampoline are back and have brought this long-awaited album with them. To sum up the whole album right away, it's filled with great psychedelic garage rock, with always-great organ-guitar interplay, intense vocals, and hypnotic bass and drums. So, I guess with that out of the way, I'll talk about some highlights. The record opens with "There Is Nothing More To Say," an organ-driven '60s-esque psych-pop track, where, true enough to the title, the only words are "there is nothing more to say." Musically, it sounds very late-'60s Beatle-y. "Ex-President" has jangly, reverb-soaked guitar intertwining perfectly with the organ. "Confidence Man" has this heavy throb from the bass and drums throughout, with a screaming, snarling guitar solo that you never want to end, until it does, right into an equally hypnotic organ solo. Sometimes, you can get bored with long instrumental jams like the ones featured several times on this album, but New Planet Trampoline clearly know what they're doing, and they push back into the main song at just the right moment. After that, "Acts Of Mania" brings the energy down, but not in a bad way, with a slower, quieter song that could be described on the whole as "lush." "Pollution (Circles & Snakes)" follows this, bringing an abrupt change with its nasty fuzz guitar and a dissonant, ominous-sounding organ part. This segues within the song to a somewhat melancholic-yet-hopeful sounding middle part, with an angelic but somewhat spooky "ooh" vocals, which bring the song crashing right back into the heavy psych part. And it's catchy, too! This song ends right as "Birds" starts, with a hypnotic melody that leads into this full-on garage rock part very briefly before the vocal melody pulls you right back to the original part. Further along in the album, there's "Nervous Intuition," which owes, at least in part, to local garage rockers New Salem Witch Hunters, with a jangly guitar part, very tight drumming, and trippy vocals, with a guitar solo you can almost sing along to– this is one of my favorites on an album full of great songs. "Dark Ride" is another heavy, long psychedelic one, which as soon as it begins tells you where it's going to go, with snarling guitar feedback that goes into a creeping riff. In contrast, the following song, "This Is The Morning," is very light and dreamy, serving as a nice comedown after the psych freakout of "Dark Ride." "Nearly Finished Face" has two parts to it (as do a lot of these songs), one of which sounds like something straight off of New Salem Witch Hunters' "Strange Is Truer Than Fiction" or maybe Love's "Forever Changes," then this other part that sounds more Pink Floyd, with a wild guitar solo. The album comes to its conclusion with the spooky, organ-driven "Haunted As F*ck," which serves very well to wrap up the record. Overall, I'd say this record was worth the wait. 4.5/5
newplanettrampoline.bandcamp.com
Queen Of Hell - Crowd Control Maxi-Single - My Mind's Eye Records - 3 songs - 12"
A quick note on this one: it's not out yet. It will be out on April 16th, for two special events– first, it'll be at My Mind's Eye as their Record Store Day release, or you can catch Queen Of Hell in the parking lot of the Agora at 1 PM, performing there to kick off the Lottery League Big Show 2016, within the actual Agora. So, onto the record. Queen Of Hell are a product of the Lottery League 2013, hence why they're playing to promote this year's. What that means for the band is that the members are from a lot a different bands: Kill The Hippies, The Insurance Salesmen, etc., etc., etc. I can't list them all 'cause I only have a finite amount of space here. Also, the names of the people in this band are great: Maximillian Hellhound, Dr. Michael Frankenklein (I wonder what his Ph.D is in?), Mortician Treehorn (I've always wondered what Morte was short for), Spectre, and the particularly succinct Dead Stephens. How can you go wrong with any of that? The label on the A side of the record is inverted, but that's because, according to the liner notes, it matches with the inverted cross and the inverted society promoted by the band. The real track 1, "The Ziggurat," starts with this arty beginning that sounds like any good '70s band, then it kicks into a harder rocking part for the chorus. Mortician Treehorn's distinctive vocals are a nice match with this kind of music, I find. Notable parts here include when the lyrics go "time changes everything, but we ain't got time to change," followed by a little guitar lick that I can only describe as completely appropriate. I also like the end bit with the vocal interplay between Mortician and Spectre, specifically when they go "yeah! yeah! yeah!" back and forth. That was pretty cool. The following song, "Crowd Control," abruptly shifts the music to a completely Motörhead-inspired punk ripper. There's a cool guitar solo on that one, too. Then, the flip side of the record (Side AA) is a long piece of music that can only be described as a suite, entitled "Queen Of Hell Part I-V." Part I is this arty hard rock bit, moving to Part II, which has some great clarinet bits. Part III reminded me, I guess fittingly enough, of Queen. Part IV moves back to the '70s rock 'n' roll sound, which is almost Meatloaf-esque at places. You know that genre of '70s music where it kinda sounds like they're trying to sound like '50s music? It's like that. Inspired by '70s that's inspired by '50s, if that makes any sense to you. Part V is a nice dramatic hard rock ending, with a cool shout out to Ian Anderson of Jethro Tull, who I can only assume must be an inspiration here. Truly, a genre-defying band, this Queen Of Hell is. Anyway, if you like '70s stuff, hard rock, art rock, prog, punk, or just good music, you should probably end up at My Mind's Eye and/or the Agora parking lot on April 16th, and see for yourself. God save the Queen. 4.5/5
I already told you where to get this. Read the review.
The Tufted Puffins - Demonstration - self-released - 4 songs - CD
Okay, I'm gonna start out this review on an iffy note and just say that I don't know what's up with the name. I'm sure there's some meaning behind Tufted Puffins, but it's just so…I don't want to say disappointing, but tame, especially knowing that this band features former members of bands like Burning Lesbians, Zen Luv Assassins, and Sleazy Jesus & The Splatter Pigs. Anyway, now that I've dissed their name, let's get to the music. "Coulda Been You" is a mega-catchy punk rock number with great harmonies/backing vocals. The following track, "Diamond In The Rough," has a total '60s garage rock feel to it, kind of like it was pulled right off of Nuggets or one of the thousands of other '60s garage punk comps. It kinda sounds like The Sonics meet The Stooges, which is pretty cool. After that is "Living In America," which finds the band going psychedelic, with a bassline ripped nearly straight from the Beatles' "Taxman." Only steal from the best, I guess. The lyrics are far from '60s love and peace, however – at one point, our narrator describes wanting to shove someone's face through a window. That's pretty punk, I suppose. The final track is "It's Up To You," a '70s-esque punk/hard rock song. Also, the super-fast kick drum is a nice touch, and a pretty unexpected one. I wasn't expecting heavy metal drumming to show up on this. As this CD is only 4 songs and clocks in at a little under twelve and a half minutes, it definitely leaves you wanting more. This is way better than I was expecting, I guess because of the name, but hey. It was good! 4/5
Not sure where to get this one online– maybe try them on Facebook or just go to one of their shows
Are you a local-ish band? Do you have a record out? Email vaguelythreatening@gmail.com or send it directly to Observer headquarters: The Lakewood Observer, c/o Buzz Kompier, 14900 Detroit Avenue, Suite 205, Lakewood, OH 44107.
Read More on Arts
Volume 12, Issue 8, Posted 4:37 PM, 04.12.2016