Gordon Tower Insurance Agency In Lakewood Once Again To Sponsor Hunger Relief Event April 23, 2016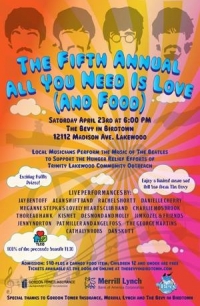 Gordon Tower Insurance Agency at 14701 Detroit Ave Suite 362 is once again the Corporate Sponsor for "All You Need is Love (And Food)" Hunger Relief Benefit on Saturday April 23, 2016 at 6 p.m. to be held at The Bevy in Birdtown at 12112 Madison Ave in Lakewood. All You Need is Love (And Food) brings together the timeless music of the Beatles as area musicians perform our favorite Beatles tunes while we raise money for the hungry via Community Meal provisions in the city of Lakewood. Bring your friends for a fun night out and to support this worthy cause!
All proceeds benefit Trinity Lakewood Community Outreach, a dynamic and fast-growing hunger relief organization. Please join Gordon Tower Insurance Agency at this wonderful event!
Tickets are only $10 and bring a canned good with you to contribute to the event.
Gordon Tower Insurance would also like to thank local area printer Chuck Davis of Adkins Printing at 14541 Madison Ave for funding the cost of printing materials, including the beautiful posters for the event.
Mary Bodnar
Mary Bodnar is a professional freelance writer who has been published in a wide range of newspapers and magazines – Great Lakes Mariner Magazine, Your Boat Connection, Cleveland/Akron Family Magazine, Lake Erie Living Magazine, CBC (Cleveland Business Connect) Magazine, Cleveland Jewish News and many other newsletters and publications over the years. She is also Editor and Press Agent for the book "Music of Our Spheres: A Collection of Ruminations" available on Amazon.com. She is co-host of Word Lovers Writers Retreats in Lakeside, OH w/writer friend Claudia Taller. In addition she was the Theater Critic for the Lakewood Observer Newspaper as well as being a regular contributing writer covering human interest stories for the Lakewood Observer. Mary also conducted all the extensive interviews with five ordained women that formed the core of the multi-media production "Making Waves" play. She is also an established workshop presenter and has shared her love of poetry, not only through her dance performance programs but as a poetry writing educator with a variety of groups. Her Odes Writing Poetry Workshop has received accolades from attendees. As a volunteer, she also writes and is the copy editor for her church website and other church publications.
Read More on Foodwood©
Volume 12, Issue 8, Posted 4:37 PM, 04.12.2016