Lakewood Chapter Installs New Officers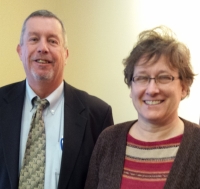 The Lakewood AM Chapter of International Referral Network recently elected new officers for 2016. Carol Palichleb is the new President replacing Ed Palm.
International Referral Network is a select group of highly qualified men and women, one in each professional category, who join together for the primary purpose of helping each other succeed in business by networking through the exchange of qualified business referrals.
The Lakewood AM Chapter meets every Friday from 7:30 to 9 a.m. at Panera Bread - 19705 Center Ridge Rd., Rocky River, OH 44116. Guest are welcome - contact our Membership Chairperson, Trey Bell, 440-653-8222.
Jack Wolf
Area Director for the International Referral Network and an Independent Distributor for the Shaklee Corporation
Read More on Business News
Volume 12, Issue 7, Posted 4:44 PM, 03.29.2016