Emergency Room? …It's Complicated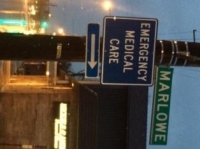 Once upon a time, what to do in a health emergency was simple. In many places it still is. As the website of the Cleveland Clinic advises, "Some situations are clearly an emergency: A heart attack, fall off a ladder, serious kitchen burn or bone break. You know to call 9-1-1 and to get your loved one to the nearest hospital." But Lakewood's hospital is closed, at present. Just what remains of its emergency services, and whether that's enough, may be as divisive as any issue in the ongoing debate surrounding Lakewood Hospital.
Critics of the city's December agreement to close that hospital, and eventually substitute a Cleveland Clinic family health center, charge that Lakewood is losing a full service emergency room. A Save Lakewood Hospital flier asserts that "A portion of the family health center will have what is called an emergency room but in reality it will be a minute clinic with emergency room prices." The limited care at "an ER in name only," hospital advocates say, will endanger lives.
City officials flatly deny all of this. Members of city council emphasize uninterrupted access to 24/7 emergency care, during the transition, as a top selling point. Fire Chief Scott Gilman says that the absence of a hospital in Lakewood will not prevent emergency services from getting critical patients to necessary care on time, and that predictions of lost lives are "completely false." Officials, as well as the Cleveland Clinic, all insist that the proposed health center will ultimately include nothing less than a "new, state-of-the-art emergency room."
Reality is often complex and nuanced, and this situation is no different. Still, on the surface it seems impossible to reconcile the competing claims. Certainly it seems like the question "Will Lakewood have a real emergency room" ought to be a simple one. Doesn't the answer have to be yes or no?
Not quite.

In a very real sense, there is no answer to whether or not Lakewood will have an emergency room, because it's simply the wrong question.
In modern times the terms "emergency room" and "ER" are, basically, obsolete cultural conventions. Paramedic and author Rod Brouhard has noted that American hospitals long ago replaced the single emergency "room" with the emergency "department," and within health care this phrase generally prevails. The emergency room has stuck around, all the same. Brouhard speculates that the television series "ER" preserved the term, plus habit, and perhaps pharmaceutical commercials' popularization of "ED" as a euphemism for erectile dysfunction. Meanwhile, it may be fair to say that the Cleveland Clinic does operate "an ER in name only" in Lakewood, but only in the same sense that they and other American hospital systems do, everywhere.
Semantically at least, "Will Lakewood have a real emergency department" is a more promising inquiry. Emergency departments are definitely recognizable, contemporary facilities found in real-world health care. Unfortunately, the exact boundaries of where they are found are not so definite.
The Emergency Medicine Network, a research and public policy organization, advises that "The definition of an emergency department (ED) is ambiguous." The American College of Emergency Physicians, whose members might know as well as anyone where they work, says that "Emergency medicine is not defined by location, but may be practiced in a variety of settings…"
The College does note that these settings include "freestanding emergency departments" distinct from hospitals; this too is an established term in wide use, moreover, at least within health care. If any phrase describing Lakewood's projected emergency services merits consensus recognition, it's this one. The announced plans of the city of Lakewood and the Cleveland Clinic definitely encompass a real, freestanding emergency department. All that's left to resolve for this issue, then, are a few long-running national controversies over such departments and their public benefit.

Freestanding emergency departments aren't new, but their rapid growth in numbers during the past decade is. It's also the source of considerable debate in health care. Writing recently, industry CIO David Chou said that they remain something of a novelty inasmuch as "no one has examined the quality of care delivered at these facilities to see if they meet the standard of care" promised and expected. Chou and other experts agree that measurable health outcomes haven't been driving freestanding departments' expansion anyway. The general conclusion of most articles on the phenomenon is that freestanding emergency departments are in business to provide convenience, and to profit by doing so.
Many stand-alone emergency departments have opened in upscale shopping centers. Others have moved into more thinly populated areas. The common denominator is bringing the most-sought attributes of a hospital emergency department into new locations. Foremost among those attributes is seeing patients without an appointment, 24 hours a day. Both critics and proponents of the freestanding departments agree that patients value seeing a doctor without an appointment, even when a condition is well short of life-threatening. Freestanding emergency departments provide this, but at a cost.
With more limited services, compared to a full hospital, in many cases a freestanding emergency department is more usefully compared with an urgent care clinic, or even the good old doctor's office. Chou says that most of the time "These freestanding Emergency Room centers see the routine patients with cuts, bumps, minor trauma, headaches, the common cold, etc." Physician Don McCanne suggests that "Free standing emergency departments really are not much different from urgent care centers," and more than one health expert suggests that an urgent care clinic is often better for patients. The biggest difference, they concur, is ultimately price.
Health economist Vivian Ho of Rice University says that freestanding emergency departments charge insurers double or triple the amount per patient as an urgent care clinic or doctor's office. Their reasons for charging those much higher fees are, primarily, the costs of meeting requirements applied to emergency departments—such as being open at all times—and, arguably, the fact that they can. Patients keep coming, even with lower prices available at urgent care centers. The reasons why they do, in turn, include the convenience of those all-day hours, plus being affluent enough to enjoy low-deductible insurance in some cases, and in other cases simply not realizing the difference. The Fort Worth Star-Telegram has found that many patients in Texas, where freestanding emergency departments have grown especially rapidly, visit them expecting an urgent care clinic and matching prices, only to get a shock when bills arrive.
For Lakewood, the differences between freestanding emergency departments and urgent care clinics have at least some bearing on hospital debates. Financially, individual residents should probably be aware that there is in fact a significant difference, whatever their personal feelings on how the two categories compare otherwise. A financial comparison may also lend weight to questions about the planned family health center's market viability. The biggest growth markets for freestanding emergency departments differ in important ways from compact, urban Lakewood and its mostly low- to middle-income families. The Cleveland Clinic recently converted Sagamore Hills Medical Center's emergency department into a more modest facility, explaining the move as more appropriate to local demand. The Clinic's detractors in Lakewood may ask whether a freestanding emergency department is any more obviously sound here.
Of course, both local critics and some health care experts argue that a freestanding emergency department is little different from an urgent care clinic anyway, in important ways. Dr. McCanne notes that urgent care clinics "can also transfer patients to acute care hospitals," just as freestanding emergency departments can and do for some of the most critical issues. What those issues are, and what are the consequences of stopping at a separate emergency department before reaching a hospital, lead to the most hotly contested aspects of Lakewood's emergency care future.

Browse around most hospital websites, and odds are good that you'll eventually find a page telling you when to visit an emergency department and when to visit urgent care. Essentially, the message is to visit the emergency department only for something that may be life-threatening. In some instances this may be ambiguous, and thus hospitals provide various examples; an urgent care clinic is adequate if you're vomiting, e.g., but if you're vomiting blood you need the emergency department.
For the most part, though, the life-threatening emergency lists all lead off with much the same items: heart attack, stroke, and their symptoms. These, probably, are also the core of arguments about whether anything short of a hospital is a risk in health emergencies.
The arguments are plentiful, and ongoing. In 2008, a USA Today story warned that patients who arrive at freestanding emergency departments "and need surgery or cardiac procedures must be rushed by ambulance to hospitals, a potential delay in treatment that worries some emergency service providers." The author interviewed emergency service personnel across the country who said that they they would not bring stroke or heart attack patients to freestanding emergency departments, only hospitals—but, the article also noted, the majority of emergency patients don't arrive by ambulance. Even as freestanding departments' numbers have grown, warnings about their limitations continue. In February David Chou wrote that "it would be a waste of time for Emergency Medical Services to take a patient to such a facility."
Local pulmonary specialist Dr. Terry Kilroy has emphasized more than once, amid Lakewood's own debates, that "time is tissue." In an interview with Save Lakewood Hospital, Kilroy recently said that "Any time that is wasted before definitive treatment is critical. A free-standing ER will assure wasted time."
For those trying to make sense of the apparently incompatible arguments from Lakewood officials, however, careful comparison between their statements and Kilroy's remarks may offer hope of reconciling things. On close inspection, the family health center's advocates and its critics are essentially arguing about different points, especially when it comes to heart attacks and strokes.
Cleveland Clinic brochures promise that Lakewood's "full-service, freestanding emergency department handles critical emergency medical conditions," but the list which follows is a mixture of non-critical conditions such as minor trauma, strains and sprains, and "symptoms" of critical conditions. The Clinic pledges that its Lakewood facility can handle "chest pain," and "stroke symptoms," but does not mention actual strokes or heart attacks. Noting, accurately, that "most emergencies do not require hospital admission," the Clinic adds that "patients requiring inpatient care will be transported to the closest, most appropriate hospital."
The City of Lakewood echoes these statements, and Fire Chief Gilman denies vehemently that patients will die during transit to such a hospital. Yet the majority of Dr. Kilroy's warnings emphasize an entirely different risk. Kilroy predicts delays as long as two hours for stroke patients being redirected to a hospital after arrival at a freestanding emergency department. "At that time," he says, "once you're outside the golden window of about an hour from the onset of symptoms, you're probably not going to be recoverable to some extent." Lakewood EMS may well save your life as promised, in other words, but the quality of that life could be substantially reduced if the local emergency department is not itself a hospital.

Semantics and nuance only explain so much, all the same, and impassioned debate will undoubtedly continue. Arguments about capacity at nearby hospitals, about economics, and above all about trust will remain more difficult to iron out. Even differences over the impact of a freestanding emergency department will likely persist; though Dr. Kilroy emphasizes organ damage and subsequent challenges to recovery, he also maintains that the delays in store for Lakewood patients will lead to increased mortality, as well.
It's indisputable that people do die in ambulances, on occasion. Recently, a patient died while being routed to St. John Medical Center in Westlake. Firmly connecting the reduction of a hospital to a freestanding emergency department with individual deaths is next to impossible, though. Even a potential trend of increased mortality, if one were to emerge, will be surrounded by other statistical "noise." Kilroy and other critics, and Lakewood's fire chief, will presumably have to disagree for the time being.
Still, whatever their disagreements about freestanding emergency departments' potential delays, nearly everyone seems to agree that what emergencies like heart attack and stroke really require is a hospital. Even as the Cleveland Clinic has assured residents over and over about continued emergency care in Lakewood, within the past year the Clinic posted a new "emergency department vs. urgent care" page to its own web site. The advice quoted earlier is from its very first lines: if someone's having a heart attack, "get your loved one to the nearest hospital."
Matt Kuhns
Matt Kuhns is a freelance graphic designer, and occasional author.
Read More on Lakewood Health Care
Volume 12, Issue 7, Posted 4:44 PM, 03.29.2016