Bernie Volunteers Undeterred; Lakewood Office Remains Open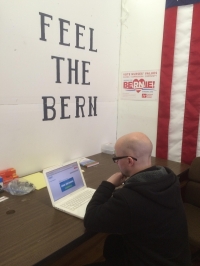 Ohio was in the national spotlight on March 15, as voters went to the polls in the presidential primaries. Campaign offices of many types sprung up around the state to get out the vote for the big day. After the votes were counted, professional campaign operatives scattered to future primary states, and most of the campaign offices went back to being vacant storefronts. However, one exception remained in Lakewood.
Hillary Clinton won the Ohio Democratic primary, and widened her delegate lead over Bernie Sanders with other big wins in states like Florida. Most national pundits believe Sanders has virtually no chance to catch up to her. Despite this, the volunteers at the Lakewood Sanders office decided to fight on. They are keeping their office open and using it as a hub for phone banking to future primary and caucus states. They are also organizing trips to Pennsylvania and New York to register voters and canvass before those states' primaries.
"I don't think it's over," said Lakewood resident Eric Deamer, an avid Bernie volunteer. Deamer pointed out that after the Ohio vote, about half of the states had yet to vote. In addition, many of the remaining states are considered to be more favorable to Sanders. Deamer is pleased that the office is still busy, "It's a hub of activity, and a physical presence."
Carl Wilhoyte is another continuing volunteer. "So much of the campaign is phone banking, which can be done anywhere," said Wilhoyte. Like many of the Sanders supporters, he is participating in his first campaign. When asked why he decided to get involved, he responded, "I was tired of sitting on the bench."
Local volunteers have already raised enough money to keep the office going through April, and hope to remain much longer than that. "We're hoping to keep this until November," says Deamer.
Regardless of how this campaign ends, the Sanders "Revolution" has brought a new generation of Lakewood residents into the political realm. Many of them are hoping to continue their movement into future years.
Mike Deneen
Mike Deneen has extensive experience covering sports and community stories for the Lakewood Observer. Mike has been a Senior Industry Analyst for the Freedonia Group in Cleveland, Ohio, since 1998. He has appeared on CNBC's Closing Bell, NPR's MarketPlace and has been quoted multiple times in The Wall Street Journal. He has made multiple guest appearances on ESPN Cleveland radio. Mike also writes for Inside Northwestern, a website that covers Northwestern Wildcat Athletics. You can reach him on Twitter at @MikeDeneen1
Read More on Features
Volume 12, Issue 7, Posted 4:44 PM, 03.29.2016