Your Walls Can Talk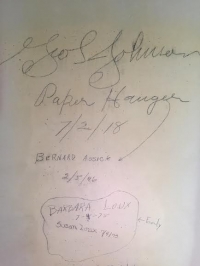 Ever wonder who lived in your house before you? Ever wonder what they were like? What did they do for a living? Did they have kids? What were their interests? Well, you'd be amazed what you can learn with a little on-line research.
Next year in July, 1095 Homewood Drive turns 100 years old. Maybe it was this impending event that stirred me to find out more about the homeowners who preceded me. With some guidance by the Lakewood Heritage Advisory Board and a few hours on the Internet, here is only a small amount of what I found out.
Eight families have owned the property, including us. Three of those families lived here in excess of 23 years. The families before us have hosted weddings, harp recitals, garden club meetings, even a wake. Some locally notable people were among those with ties to the home.
The property was purchased in September 1916 by a real estate investor, Robert P. Clark and his wife, Lucille. They lived at 15105 Lake Avenue. It is unclear whether they ever lived here or just had the home built to sell. They bought the property for $2,775. The original building permit shows the anticipated building cost to be $10,000. The first real estate ad for the home ran in September 1918 with a list price of $22,500. George Kauffman, a Canton-area contractor turned architect, designed the home. He was also the architect for the Sly Mansion (now owned by the Semaan family). Side Note: The Sly mansion is one of only three original lakefront estates that remain in Lakewood of 31 that were once between West 117 and Summit Avenue. All three are in the Overlook Park neighborhood. The other two are currently owned by the Munsons and the Hollands.
The second owners, Joseph and Nettie Mitcheltree, lived here from April 1919 to September 1924. Nettie put the home up for sale less than a year after Joe's untimely death in July 1923. Joe and Nettie frequently entertained friends at The Clifton Club and Westwood Country Club. In 1927 a Joseph Mitcheltree Trophy was awarded to J.C. Pettee, a Westwood veteran. Joseph's obituary says he was a member of the Knights of Templar. It is unknown if Joseph was involved in Templar Motors, but most certainly he knew men who were. The automobile was built in Lakewood between 1917 and 1924. A circa 1921 photo shows a Templar auto in front of the home.
The third owner of the house turned out to be a millionaire according to his obituary. David Lowensohn and his wife, Ida, lived here for 8 years. He owned an engineering/construction company that built the Lorain-Carnegie Bridge and the Lorain Bridge over the Rocky River by Fairview Hospital. His company also installed a 24" water main on Clifton that supplied water to Rocky River and Bay Village. Because the company was an "open shop" it frequently made headlines when it was embroiled in work disputes with local unions. In 1932 he and his wife moved down Edgewater Drive to what is now the Morgenthaler house at 13904 (next door to the Mellino's). The Lowensohn's eventually moved from Lakewood to 2823 Winthrop Road in Shaker Heights. Interestingly, the Lowensohn Construction Company served as the engineering partner to the Van Sweringen brothers real estate company for years; so most certainly Mr. Lowensohn had something to do with the development of Shaker Heights. He and his son were the first Clevelanders to fly across the Pacific in November 1936.
Lewis and Muriel Winter (whose daughter married a Lieutenant in the Air Force and whose son served as a Lieutenant in the Army); Barbara and Gordon Loux; Jeff and Karen Weber each owned the home for 23 years or longer. During these years there were births, graduations, weddings and lasting friendships formed. One such friendship was between two young boys: Gordon Winter and George Steinbrenner, who frequently visited his grandparents at 1096 Homewood Drive. Years later, Gordon was an usher at George Steinbrenner's marriage to Elizabeth Joan Zieg held at the Scioto Country Club.
In 1996 as we stripped wallpaper in our daughter Kimi's room we were surprised to uncover a written history left marked on the wall. George L. Johnson, paperhanger signed the wall in 1918 with a flourished signature reminiscent of the signers of the Declaration of Independence. In 1946, Bernard Assick, paperhanger signed the wall. And in 1975 Barbara Loux signed the wall. It seemed only fitting that we too leave our inscription.
To this day, this wall continues to talk. We left it exposed and coated it with polyurethane to preserve it for the next 100 years. It's a living reminder that after all, we are mere custodians of a house…part of a chain in an on-going narrative. Building memories and moving on; allowing others to build their own cherished memories.
Jeff Weber
Post Script: In December 2015, the Planning Commission of the City of Lakewood approved our application for Historic Designation. And next year…we hope to mark the home's first 100 years with a befitting party.
Read More on Historical
Volume 12, Issue 5, Posted 11:28 AM, 03.01.2016