Beck Center Presents Solo Exhibition And Student Talk With Martinez E-B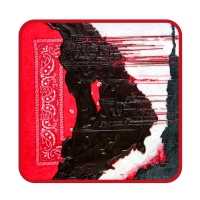 Beck Center for the Arts is pleased to present Martinez E-B's solo exhibition So, Let Them Have Color on display in the Jean Bulicek Galleria February 5 – March 6, 2016. An Artist's Reception will take place Friday, February 12 from 6 – 8 p.m. This exhibition will coincide with Beck Center's production of Lin-Manuel Miranda's In the Heights, the Tony Award® winning musical. For gallery hours, call Customer Service at 216.521.2540 x10. Beck Center is located at 17801 Detroit Avenue in Lakewood. The reception and exhibition are free and open to the public.
A native of inner-city Cleveland, Martinez E-B produces work inspired by his upbringing. After receiving his BFA from the Cleveland Institute of Art and his MA from Columbia College Chicago, Martinez E-B founded Red Light Go Studios with the mission to create entertaining critical thinking material for the benefit of the youth mindset. Current works include the comic book Rid-All's Brink City about urban environmental sustainability, and the graphic narrative tale Back Pack Jackabout a young man's search for self-discovery.
His solo exhibition in the Jean Bulicek Galleria at Beck Center for the Arts is a series of paintings and collages entitled So, Let Them Have Color. This collection of work re-contextualizes signs, flags, mementos, color, and the notion of social belonging. "We often pull objects from the world around us and place them into our own settings and meanings," remarked Martinez E-B. "With this in mind, my series of work explores our relationship with the visual language that identifies us, tells our stories, and at times holds us hostage."
These ideas will be further explored through his Cleveland Institute of Art student project Speak with me Show with me. Students from local high schools will meet with E-B at 10 a.m. on Thursday, February 11 in Beck Center's galleries as he shares his inspirational journey. This opportunity will allow the students to not only meet the artist, but to also discuss his views and artwork in a unique way.
Free onsite parking is available. For more information about upcoming art exhibits at the Beck Center for the Arts, visit our website at beckcenter.org.
Beck Center for the Arts is a not-for-profit 501(c)3 organization that offers professional theater productions on two stages, arts education programming in dance, music, theater, visual arts, early childhood, and creative arts therapies for individuals with special needs, outreach education programming, and gallery exhibits.
Pat Miller
Graphic Design & Marketing Coordinator - Beck Center for the Arts
Read More on Arts
Volume 12, Issue 3, Posted 2:29 PM, 02.02.2016