Interactive Video Event To Feature Retail Expert Bob Negen On February 19th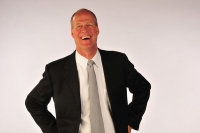 From hardware stores to gift stores to boutiques and beyond – every retail business faces challenges and opportunities. Take control of the trajectory of your retail enterprise – attend "A Championship Run For Your Business" on Friday, February 19th.
The Lakewood Chamber of Commerce and the University of Akron Lakewood will host A Championship Run For Your Business, featuring two 90-minute virtual training sessions with Bob Negen, retail business expert, bestselling author of "Marketing Your Retail Store in the Internet Age," and founder of "WhizBang! Training." Bob Negen has taken the customer-focused business philosophy he developed at his own retail business and applied it to the new realities of retail: increased competition, incredible price pressure, and the availability of 24/7 shopping online. Bob's hard-hitting and often hilarious training stories come from over two decades in the retail industry building his own retail store into a multi-store, multi-million-dollar operation.
In keeping with the sports theme, and as the region watches the Cleveland Cavaliers make their Championship Run, attendees will hear opening remarks at 8:00am by George and Greg Vlosich, Owners of GV Art + Design. Lakewood-based GV Art + Design has worked with professional athletes and teams throughout the country. GV Art + Design Apparel has garnered national attention from SportsCenter, TNT, MLB Network, and Jimmy Kimmel, and has been on the front pages of Yahoo, ESPN, NBA.com and Sports Illustrated. GV Apparel is featured in professional team shops and carried in dozens of stores throughout Northeast Ohio.
Registration begins at 7:30am, opening remarks begin at 8:00am. The interactive training event consists of two 1.5-hour sessions beginning at 8:30am, with one 30-minute break. Breakfast is included, sponsored by the Downtown Lakewood Business Alliance.
Lakewood Chamber of Commerce and Downtown Lakewood Business Alliance members: $50 for first attendee, $30 each additional registration from the same business/organization. Non-Members: $60, $40 for each additional registration from the same business/organization.
This event is brought to you by the Lakewood Chamber of Commerce Education Task Force. For more information and to register: http://lakewoodchamber.org/a-championship-run-for-your-business/.
Read More on Business News
Volume 12, Issue 2, Posted 5:45 PM, 01.19.2016