The Thrifty Peddler - End Of An Era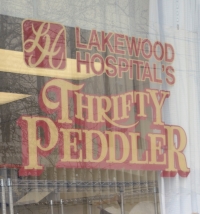 December 29th marks the end of an era as the Thrifty Peddler - Lakewood Hospital's resale shop - closes its doors. As age catches up with the volunteers who run the operation, and circumstances change, it is time to say goodbye to the Thrifty Peddler, an effort that has served its purpose to support special projects and services at Lakewood Hospital well beyond its original intent.
A storewide sale of all merchandise and store fixtures ended on December 29th.
The Thrifty Peddler was started nearly 40 years ago with one room in the basement of the hospital. It was open two days a week and featured donated clothing and accessories. Later the shop was moved to a storefront on the corner of Belle and Marlowe. This was a much larger facility and another storefront was added for furniture, lamps and pictures. In August of 2009 the shop was moved to the present location in the Lakewood Professional Building.
All of the income generated from the Thrifty Peddler has been returned to Lakewood Hospital through its auxiliaries and volunteer association, for various initiatives and programs including the renovation and expansion of the Emergency Department, a van and playground improvements for the Child Care Center, treadmills for stroke and cardiac rehab, special needs for the Teen Health Center, diagnostic and surgical equipment, inpatient and outpatient rehab therapy items, and funding for the Diabetes Assistance Program, to name just a few.
All of the merchandise was donated by community members. Many of these donors have been bringing items since the shop was started. Without them and their donations there would not have been a Thrifty Peddler.
The volunteers from the hospital's women's auxiliary boards and the volunteer association have been the heart and soul behind the Thrifty Peddler. Over the year these dedicated volunteers have managed the inventory, done the sorting and pricing, impeccably displayed the merchandise and happily assisted customers in finding that perfect treasure.
Some of these volunteers have been involved with the Thrifty Peddler since its start. It is because of their enthusiasm and commitment that the Peddler has thrived, ultimately impacting patient care offered through Lakewood Hospital.
A big thank-you to all those who have supported the Thrifty Peddler with their donations and purchases.
The Thrifty Peddler
14601 Detroit Avenue, Lakewood
Polly Stringer
Lakewood Hospital Foundation
Read More on Features
Volume 12, Issue 1, Posted 6:19 PM, 01.05.2016